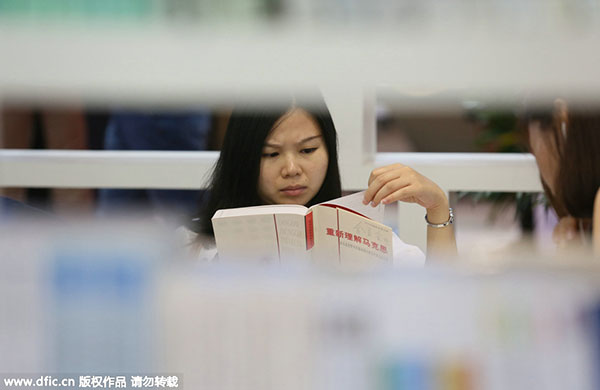 A visitor reads a book at the 22nd Beijing International Book Fair in Beijing, August 29, 2015. [Photo/IC]
BEIJING - Beijingers read nine books on average in 2014, up 17.13 percentage points from 2013, according to a survey released on Friday by the municipal bureau of press, publication, radio, film and television.
According to the survey, 91.16 percent of Beijing residents said they read in 2014, above the national average of 78.6 percent. Health, literature and news were the top three preferred reading categories for residents of the capital.
The survey was conducted among Beijing residents between ages 7 and 70. More than 6,000 people were surveyed, according to the bureau.
China faces a reading crisis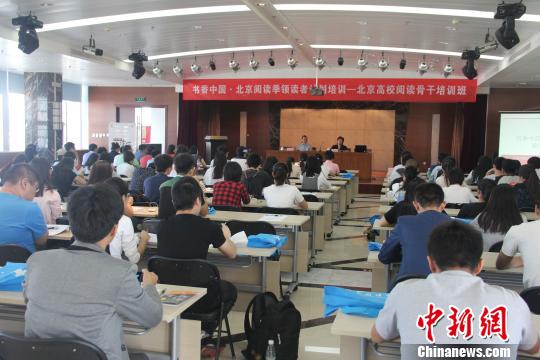 University students attend the training session on reading. [Photo/Chinanews.com]
China is facing a reading crisis, with more than 50 percent of people surveyed believing their reading is far from enough, and only 20 percent satisfied with themselves.
According to Xu Shengguo, head of the Chinese Academy of Press and Publication, the country's reading rate last year was 78.6 percent which means that percentage read books, periodicals, newspapers or were involved in online reading. While 21.4 percent read nothing at all.
Xu said the academy launched an annual survey on the reading quantity of Chinese people in 2005, and found that each read 4.5 to 4.7 books on average per year between 2005 and 2014.
Last year Chinese people read only 4.56 books, compared with 12 in France, 11 in South Korea, nine in Japan and about seven in the US. In addition, more than 40 percent of Chinese people read less than one book throughout the year outside of text books.
Sponsored by Beijing Municipal Bureau of Press, Publication, Radio, Film and Television, a training session on reading was held in Beijing on Saturday. It was the first meeting of the "Leading Reader" project, a training series for teachers, officials, college students and bookstore owners on the promotion of nationwide reading. It will be held on weekends during September and October.
Some 150 college students attended the session and heard lectures by Xu, Wang Yijun, director of Department of Public Service in Beijing Municipal Bureau of Press, Publication, Radio, Film and Television, and Lin Dan, originator of Your Bay Parent-child Picture Book Center.