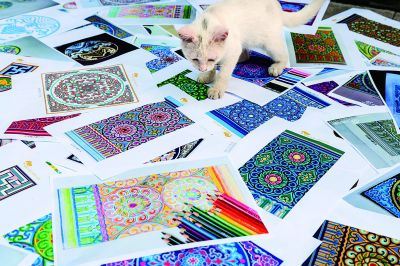 A cat is attracted by the entries of "Color the Forbidden City" activity. [Photo/ifeng.com]
Following the success of Secret Garden, the best-selling coloring book for adults, a series of coloring books of the Palace Museum will be released in China this upcoming October.
The book series bases its materials from drawings and patterns of the Forbidden City. Some of which being the original pattern designs of Qing Dynasty (1636--1912). Other paintings replicate the patterns on the precious cultural relics by veteran employees of the museum. There are even designs which were drawn by the younger staff of the museum..
The staff of the museum tentatively schedules to publish three books separately covering drawings on architecture, decorated patterns of the royal clothing and royal jewelry, as well as patterns of royal supplies. Two of the books are in the process of typesetting.
With the popularity of Secret Garden and Basford's follow-ups, coloring books are no longer seen as just childish recreation in China. But to endorse the new book series, the museum staff conducted an online popularity test.
Under the tag "Color the Forbidden City", the museum issued three black and white patterns featuring the intricate, richly ornamented architecture of its famous structures for people to color and upload onto its official Weibo account July 19th. It took only several days before it received more than 6, 000 praises, relays and comments. Around 200 netizens uploaded their works in succession.
Recently, nine works from all entries have been selected as winning works. Among them, a winner colored the pattern with only a ball-pen in a blue and white porcelain style; someone else used an automatic coloring program on computer; while another winner made embroidery in accordance to the pattern. Prizes had already been sent to the winners by the museum staffs.
Color and architecture are subjects the museum has always wanted to introduce further to the public, according to Guo Ting, social media manager of the museum's Weibo account.
"The Palace Museum thought about publishing colored photos of architectures in the Forbidden City as early as 2008, because they are aesthetically pleasing, but our thoughts back then were not as 'fashionable' as the coloring idea today. Since June, with the popularity of the coloring book, our team thought about trying it with patterns found in the museum," said Guo.