Paper patterns help inspire fashion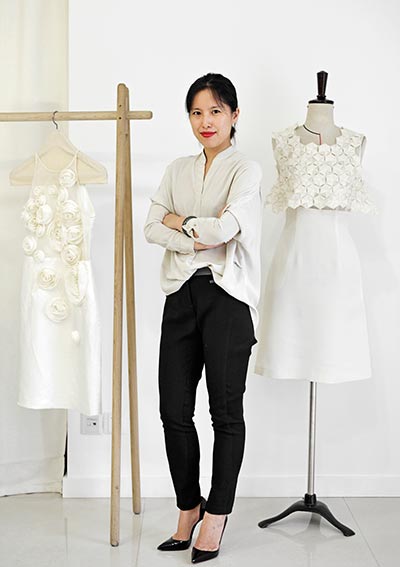 Fashion designer Yang Fang makes origami an essential element in every collection her brand has produced. [Photo provided to China Daily]
Shanghai fashion designer Yang Fang is definitely not the first to seek inspiration from origami for her runway looks.
One of the most notable collections in recent years, if not also the most wearable, it may just be the work of Japanese fashion house, Issey Miyake, with their collections featuring three-dimensional structures reduced to two-dimensional geometric patterns.
But Yang, a "country girl" whose childhood was filled with simple pleasures of nature and origami, might be the most determined paper-folding aficionado in the fashion world.
In 2008, the graduate of ESMOD, the 174-year-old fashion school in Paris, founded womenswear brand, By Fang. Since then, origami has been an essential element in every collection the brand has produced. Now, almost seven years later, her capacity to be inspired by paper is "far from being exhausted".
"It's a thousand-year-old art in China, encouraging millions of children, before the electronic age, to create all kinds of possibilities from just a piece of paper. And now, I am just replacing paper with fabrics, with more possibilities from silk, to cotton, to cashmere," Yang says.
Yang, the daughter of two middle school teachers who were sent to China's rural areas to be "reformed" in the 1960s, spent her childhood years in the countryside where she got familiar with origami. Yang first had the idea of starting her own ready-to-wear fashion brand in Paris. The French capital was, for Yang, a "revolutionary" fashion experience. But in 2013, when Chinese fashion buyers, independent designers and press suddenly poured into Paris' Fashion Week, she decided it was time to bring the label back to her parent's hometown-Shanghai.