In on the shoot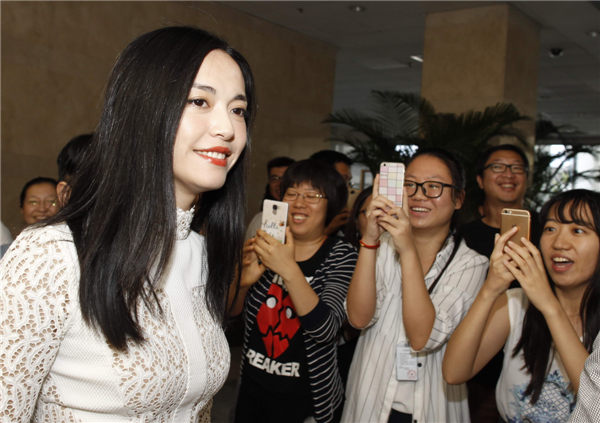 Actress Yao Chen attends the inauguration of the Amazing China mobile phone photo competition in Beijing on Monday. ZHU XINGXIN/CHINA DAILY
Actress Yao Chen is the face of a photo contest that aims to highlight Chinese people's beauty. Xu Fan reports.
The actress Yao Chen, whose fans often liken her to Angelina Jolie because of her full lips and charity work, is among the most popular celebrities on Sina Weibo, the Chinese equivalent of Twitter. Now she boasts a new role: promoter of cellphone photography.
Yao was the guest speaker at the inauguration of a photography contest organized by China Daily in its Beijing office on Monday.
She is the image ambassador for the 2015 Amazing China mobile phone photo competition, which requires applicants to submit their works to the newspaper from Aug 11 to Sept 12. The competition aims to encourage more people to capture the beauty of China on their cellphones.
The actress says she will use her online status to let more people know about the contest and encourage them to take more photos on their phones.
Yao, listed by Time magazine as one of the top 30 most influential people on the Internet this year, with 78 million followers on the micro blog, is capable of being heard by at least one online user in eight as she comments on a wide range of topics, from aviation tragedies to her 2-year-old son to photography. Her fans say they love her "carefree personality and self-mocking humor".
Yao's husband, Cao Yu, the cinematographer behind the award-winning Kekexili: Mountain Patrol, persuaded her to take on the job of promoting the contest.
"So you aren't good at photography, but at least you're a beauty," Yao, in a short white dress, teasingly mimics her husband as telling her earlier.
The A-list actress, 35, is more than just a pretty face.
Her appeal to the public to help the 7-year-old victim of a car crash in 2012 was answered within hours of the post, generating around 80,000 yuan ($12,700) from online users. She has also been a goodwill ambassador for the United Nations' High Commissioner for Refugees since 2013.