'Ugliest wax museum' earns ire of China's celebrities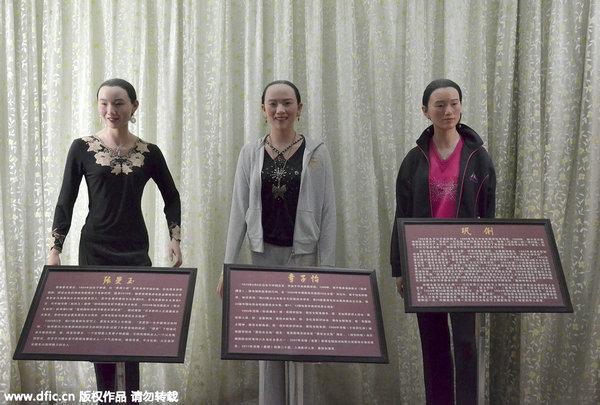 The wax figures of famous Chinese actresses Maggie Cheung(left),Zhang Ziyi (middle) and Gong Li(right) in a wax museum in Huayingshan, southwest China's Sichuan Province, on August 13, 2015. The museum has been dubbed by netizens as "the ugliest wax museum." [Photo/IC]
Celebrities across China are outraged at their unauthorized wax figures being included in a museum in Sichuan Province that has been dubbed by netizens as "the ugliest wax museum."
The museum, located in the city of Huayingshan, contains wax figures that many visitors have said don't resemble the celebrities they are supposed to depict.
Wax figures of celebrated actresses Zhang Ziyi and Gong Li are standout figures amid the dismal attempts. Both figures, which share very little likeness to the two stars, are seen wearing out-of-date sportswear. Taiwan singer Jay Chou is also a notable figure seen among the wax likenesses, but he is dressed in an outfit straight out of 1980s, rather than anything that can be considered contemporary.
Many visitors reportedly didn't know who was supposed to be depicted in each wax figure, until they say the figure's name plate.
Ling Lucas, Zhang Ziyi's agent, expressed her indignation at the poorly-scultped wax figure being on display without her authorization. She added that Zhang will have her lawyers send a letter to the museum to have her wax figure taken down.
The sub-par wax likenesses are the work of Zhang Shouxiang, a former curator at the Beijing Wax Museum. He defends his widely-criticized work, saying that it is normal for a wax figure to not look exactly like the person it is supposed to depict.