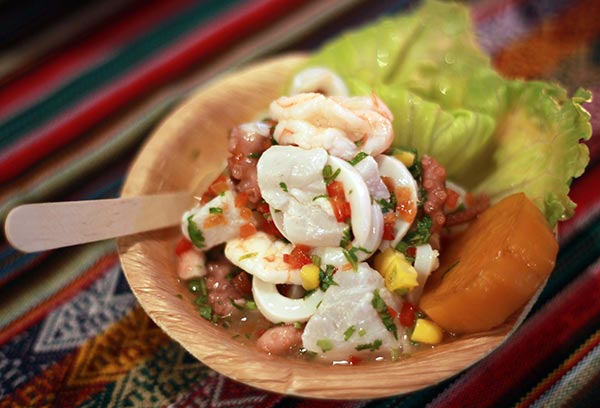 Mixed seafood ceviche at Buena Onda, a newly opened pop-up in Beijing that emphasizes Peruvian dishes and drinks. Photo provided to China Daily
When anyone utters the words pisco war they are usually referring to somebody from Peru and somebody from Chile arguing in a bar about which country invented the drink.
Recently, when two restaurants in Beijing started promoting summer pop-ups emphasizing Peruvian ceviche and pisco sours, foodies in the capital wondered if an ugly confrontation was brewing.
Staff at both restaurants think that's hilarious. If anything, says Alex Worker of Buena Onda, they are teaming up to bring a new food culture to Beijing-one that's hot globally but hard to find in China.
Aitor Olabegoya, the Spaniard who is culinary director at Migas, couldn't agree more.
"At our cevicheria, which is just opening, we can accommodate up to maybe 50 people-about the same as here," he says, sipping a pisco sour at a recent party organized by his counterparts.
"If we can get people in a city of 22 million excited about ceviche and pisco," he says, "there is plenty of room for more."
Buena Onda opened in June with a pop-up model that may multiply: The team fronted by three expats, Stew Johnson, a Briton, Francisco Chia, a Peruvian, and Alex Worker, a New Zealander, takes over the container in the plaza at China Central Place mall, which during the morning and lunch operates as Cafe Flatwhite. At 5:30 pm it reopens in a bloom of hot Latin-hued tablecloths, with salsa music, a selection of tart nibbles and two or three variations on the pisco sour.
Ceviche is a marinated raw-fish snack that "cooks" in a bath of citrus juice-usually lime-that gives it a fresh, tart taste.
Behind the bar, Chia can rattle a cocktail shaker with far more panache than Tom Cruise ever did in his bartender movie, and his smooth moves don't stop there. On Tuesdays he's out in the plaza giving salsa lessons, and on Friday evenings he's back outside to make sure the pre-weekend dance party is in full swing. "That man has the devil in his hips," says one female fan during a time-out from the salsa.