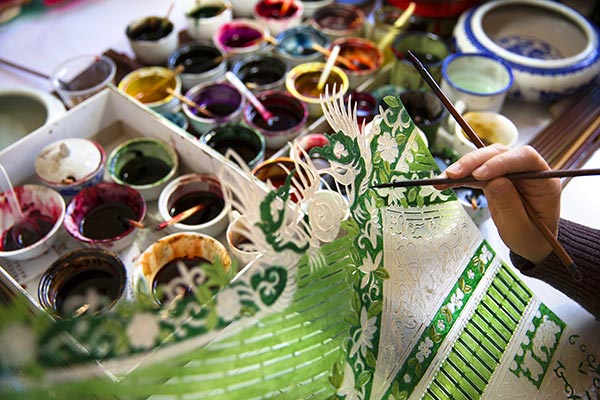 Craftsmen color the shadow puppets to give them a modern look. [Photo provided to China Daily]
The Chinese fairy tale figure Madam White Snake is back again, this time in two very different guises. The first is in the time-honored way in which audiences are used to seeing it, and the other in a very contemporary form.
The first version sticks rigidly to the well-known folktale the "Legend of the White Snake", vividly presented on a scroll 30 meters long featuring more than 140 shadow puppets dating back to the late Qing Dynasty (1644-1911).
The version in which the tale is given a very different, contemporary twist is by the artist Wu Jian'an.
"This is fresh attempt to break the boundaries between traditional craftsmanship and contemporary art," says Fan Di'an, curator of the show Transformation and head of Beijing's Central Academy of the Fine Arts.
"Chinese art always needs to regenerate itself by feeding on its rich culture."