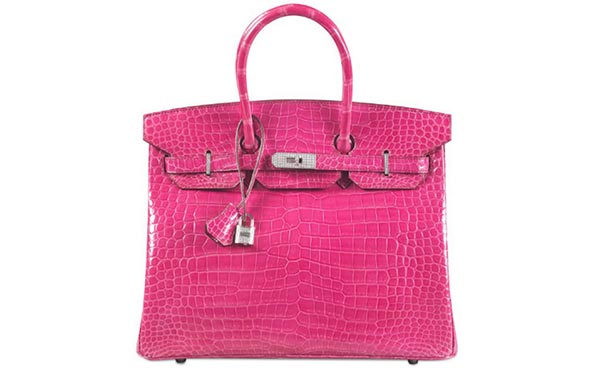 A fuchsia Hermes crocodile Birkin bag with a diamond-studded clasp and lock set a record as the most expensive handbag ever sold at a Christie's auction in Hong Kong last month, fetching $222,000. [Photo/Agencies]
Actress and singer Jane Birkin has asked Hermes to remove her name from one of the luxury goods maker's best-selling bags due to what she called "cruel" crocodile farming and slaughtering practices.
"I have asked Hermes to rename the Birkin Croco until they adopt better practices that meet international standards for the production of this bag," Birkin said in a statement to the media on Tuesday.
Birkin said she had signed actor Joaquin Phoenix's Mercy For Animals petition to "shed exotic skins from your wardrobe" in protest against the "millions of reptiles slaughtered each year and turned into shoes, handbags, belts and other accessories".
People for the Ethical Treatment of Animals, or PETA, said it had released a video, narrated by Phoenix and which Birkin had seen, showing how live reptiles were skinned or sawed open on farms that supplied luxury brands.
Hermes said the crocodile skins it sourced from a Texas farm in the video were not used for Birkin bags and stressed that it did not own that farm.
The luxury brand also said that an investigation was being conducted into the farm's practices and that "any breach of rules will be rectified and sanctioned."