The higher the jackpot, the longer the lines for lottery tickets.
Manhattan Chinatown was no exception to that rule on Monday as Powerball players edged into stores to buy the $2 tickets for Wednesday's drawing for what is currently a $1.4 billion jackpot.
As no ticket matched all six Powerball numbers for the previous record $949.8 million jackpot on Jan 9, the pot of gold continues to grow.
As for how you win, powerball.com explains that "tickets print the white ball numbers (the first five numbers) in numerical order. You can match the first five white ball numbers (which go up to 69) drawn in any order.
"The red Powerball number on your ticket (the last number, often behind a "PB") must match the red Powerball number drawn."
Stores in Chinatown that sell lottery tickets naturally experienced more business on Monday. A 7-Eleven on Lafayette Street posted signs saying "Powerball $1.3 billion".
Bikas Pande, a cashier at the store, said that previously about 1,000 sets of numbers for Powerball were rung up per day, but as the jackpot surged, that number has risen to about 5,000.
Yang Hua, a cook in a neighborhood restaurant, was buying tickets at the A Plus Z Pharmacy.
The 60 year-old Chinese immigrant, who came from Malaysia to New York about 20 years ago, said he has been buying Powerball tickets for more than 10 years ($10 per day) for five sets of numbers.
"I never won," Yang said.
"I guess I'm still in the queue (to get lucky), and it seems it won't take long for my turn," Yang laughed.
Yang said that because of the jackpot raised, as far as he knows, people around him such as his buddies and co-workers in Chinatown are all trying their luck on Powerball, "joining the huge fun", Yang said.
"For our immigrants, it gives us a hope for life," he said with the remote hope of becoming a multimillionaire or even a billionaire. The odds of winning are estimated at 1 in 292 million.
Within five minutes, three groups of customers entered the pharmacy just to buy Powerball tickets.
A cashier at the pharmacy said the daily Powerball ticket sales could reach 2,000 per day this week and have become the main source of their business recently.
xiaohong@chinadailyusa.com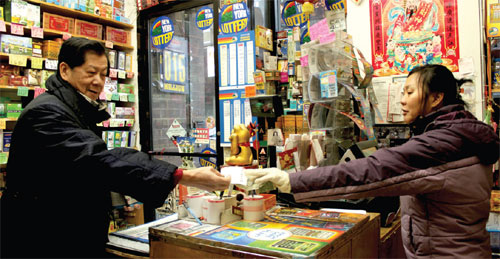 Yang Hua (left) buys a Powerball lottery ticket in the A Plus Z Pharmacy in Manhattan's Chinatown on Monday afternoon. Hong Xiao / China Daily