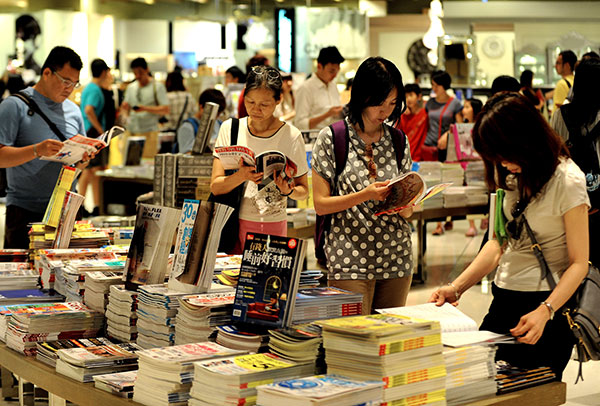 People browsing at one of Eslite's stores in Taipei. The Taiwan bookstore chain will open its first mainland branch in Suzhou, Jiangsu province, at the end of this month. TAO MING/XINHUA
The growing popularity of personal stories written by authors from Taiwan is prompting greater understanding on both sides of the Straits, as Peng Yining reports.
In his memoir Once Upon a Time in Taiwan, writer Liao Shinchung, a 38-year-old former store assistant from the island, described his first encounter with a mainland resident, on an airplane in early 1990s.
He wrote: "There was a popular saying at that time in Taiwan: 'People in the mainland are very poor, so they only eat banana skins'. After a short chat with the man, I carefully tossed in a question. 'I heard ... well ... you all eat banana skins?' The man from the mainland banged the armrest with his hand and cried out: 'I heard people in Taiwan all ate banana skins!' We had a good laugh together, and then pondered the mystery, 'Who ate the banana?'"
As Liao explains in his book, many Taiwan residents gained their first impressions of the "communist mob" on the mainland from illustrations in textbooks that showed big, fat communists, with cigarettes dangling from their mouths, whipping people in the mainland.
For Liao, those impressions were shattered when he was a middle school student and he saw photographs of Zhou Enlai, China's first premier.
"I couldn't believe it. (The photos) made me seriously confused. Shouldn't they look big, fat and obscene? I couldn't believe a member of the 'communist mob' could have such a look of righteousness. At that moment, my values almost collapsed," he wrote.
Liao's stories, which interweave tales of his daily life with major social events in Taiwan, including its rocky relations with the mainland, provoked a sensation when the book was published in the mainland in 2009. It quickly sold more than 1 million copies. Last year, he published a sequel, and has followed up with two more books about Taiwan this year. All three have made a similar splash.
In his first book, Liao wrote about his daily life, from pranks, such as throwing firecrackers into the toilet as an elementary school student, to his experience of serving in the army. In addition to personal stories, the second half of each chapter-one per year from 1977 to 2009-described major news or changes on the island during the year in question, including the death of Chiang Ching-kuo, the leader of the Kuomintang and son of Chiang Kai-shek, and the opening of Taiwan's first McDonald's.