Comments by Xu Xiujun, associate researcher with the Institute of World Economy and Politics at the Chinese Academy of Social Sciences; comics drawn by Wang Dongjie
The top leaders across the Taiwan Straits, Xi Jinping and Ma Ying-jeou met at Shangri-La Hotel, Singapore at 3 p.m. local time, November 7. Hundreds of journalists from around the world witnessed the historic handshake as they smiled at each other.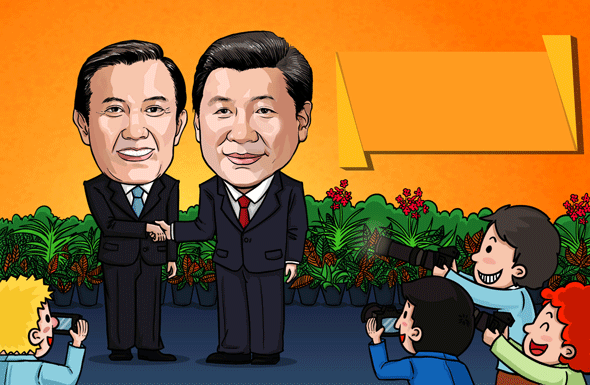 New chapter in history of cross-straits relations
After 66 years, compatriots across the Straits finally ushered in the historic moment, the first direct meeting between leaders across the Straits since 1949.
Compatriots across the Straits are "brothers who are still connected by our flesh even if their bones are broken" as a Chinese saying goes. They are a family, because blood is thicker than water.
For the past 66 years, cross-Straits relations have suffered under dark clouds, and isolation, but history has shown that storms cannot separate a family now matter how strong the wind and rains are.
Cross-Straits relations stand at the most stable phase since 1949. Leaders on both sides can sit and have a face to face talk to discuss the daily life of a family.
The harmonious atmosphere has demonstrated the profound brotherhood among compatriots across the Straits. The meeting follows the trend of public opinion to open a direct communications between leaders across the Straits.
It is conducive to enhance mutual trust, consolidate the "1992 consensus", promote relations and safeguard peace and stability across the Taiwan Straits, opening a new chapter that is deemed an important milestone.