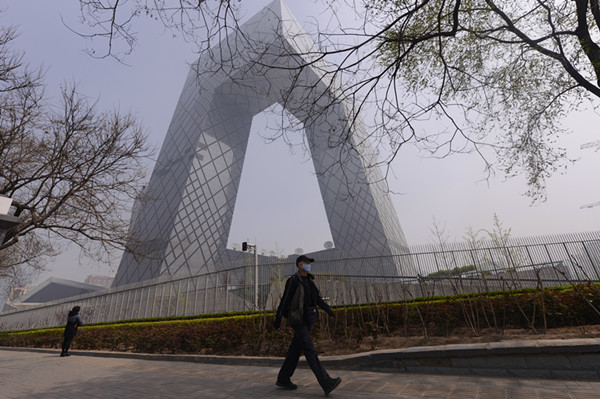 A man wearing a facemask walks on a street beside the CCTV building in Beijing in a hazy day in April. [Photo by Wei Xiaochen/Asianewsphoto]
A new analysis from the World Health Organization (WHO) shows that an estimated 684,000 premature deaths in China could be prevented every year by 2030, with stronger action to reduce dangerously high levels of air pollution and to mitigate other health effects of climate change.
These findings, published by the WHO today, are contained in a new Climate and Health Country Profile 2015 on China. The new report comes as many cities across China are currently experiencing levels of air pollution 10 to 20 times higher than the WHO-recommended safe levels, coinciding with the start of winter.
"Air pollution and climate change pose serious risks to the health of our environment. And they pose serious threats to human health," said Dr Bernhard Schwartländer, WHO Representative in China.
"The people of China know this only too well: grey sky and frequently unbreathable outdoor air is part and parcel of daily life in many parts of the country. This is taking its toll on the country's health - in increasing rates of sickness and death caused by respiratory tract infections, heart disease, and lung cancer.
"It is crucial that the importance of acting on climate change to protect human health be part of the conversation at COP21 in Paris."
According to the new report, important advances in population health and social development in China risk being undone by the impacts of climate change - including more extreme rainfall and flooding, higher temperatures and intense heatwaves, water and food insecurity, and increased risk of climate-sensitive diseases like dengue fever.
Other key findings from the report which highlight the important links between health and climate change include a 'high emissions' scenario - that is, 'business as usual' - meaning the annual temperature in China will rise by more than 6°C by the year 2100. Reducing emissions will slash the projected temperature rises fewer than 2°C;
Under a 'high emissions' scenario - and without investment in adaptation - as many as 23 million people in China every year will be threatened by flooding as a result of rising sea levels between 2070 and 2100. With action to reduce emissions and mitigate risk, the number of people affected by severe flooding each year will be massively reduced, to around 2400.
As the world's second-largest economy, China has a crucial role to play in global efforts to reduce greenhouse gas emissions and address the impacts of climate change. The WHO welcomes strong commitment shown by China to act on climate change, including Premier Li's famous declaration of a 'war on air pollution' in February 2014.