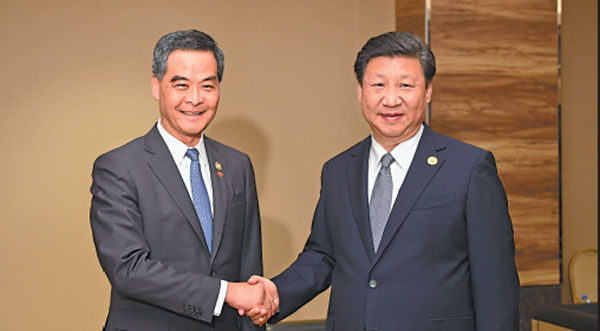 President Xi Jinping meets with Hong Kong Chief Executive Leung Chun-ying during APEC meetings in Manila on Wednesday. [Photo/Xinhua]
The central government fully acknowledges the efforts of the Hong Kong Special Administrative Region's government in handling the situation after the local legislature turned down a motion on universal suffrage to elect the region's next chief executive.
President Xi Jinping endorsed the region's government and its Chief Executive Leung Chun-ying when meeting with Leung in Manila on Wednesday, as both were in the Philippines to attend the Asia-Pacific Economic Cooperation 2015 Leaders' Week and other related meetings this week.
It was Xi's first meeting with the Hong Kong chief executive after the Legislative Council voted down the motion in June.
Xi said during Wednesday's meeting that the region's government has recently shifted its focus to work on improving people's livelihoods, which has won a positive response from the community.
He urged the region's government to build a greater social consensus on Hong Kong's development and put stress on developing the economy, improving people's lives and promoting harmony.
Xi urged Hong Kong to leverage national development strategies, such as the 13th Five-Year Plan (2016-20) and the Belt and Road Initiative, for regional benefits.
During the meeting, Leung introduced the work of the region's government.
At a meeting in Manila on Tuesday, Leung highlighted Hong Kong's position as an open economy and expressed confidence in regional economic growth.
"I firmly believe, and have faith and confidence, in this region's economy.
"The economies in this region have been growing quite handsomely and we believe in further growth in the years ahead, particularly as China's Belt and Road Initiative is being rolled out," Leung said.