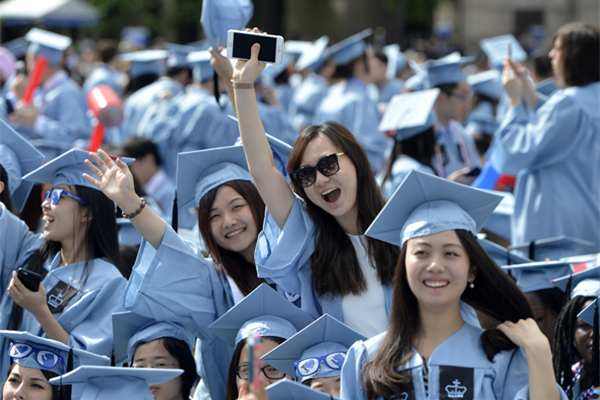 Chinese students celebrate their graduation from Columbia University on May 20. [photo/Xinhua]
The number of Chinese mainland students studying in colleges and universities in the United States exceeded 300,000 for the first time this academic year, according to a report released in the US on Monday.
The 2015 Open Doors Report on International Educational Exchange, published annually by the Institute of International Education, shows that 304,040 Chinese mainland students are in the US, a 10.8 percent increase over the previous academic year.
It means that Chinese mainland students now account for 31.2 percent of the total 974,926 international students in US colleges and universities in the 2014-15 academic year.
The other top sources are India, with 132,888 students in the US; South Korea 63,710; Saudi Arabia 59,945; and Canada 27,240.
Taiwan ranked 7th, with 20,993 students, and Hong Kong ranked 20th with 8,012. India registered the strongest growth this year, rising 29.4 percent.
Undergraduate students from the Chinese mainland, who drove the overall numbers in recent years, had a lower growth rate in 2014-15 than in previous years, according to the report. However, 2014-15 was the first academic year that Chinese undergraduates outnumbered Chinese graduate students.
Of the Chinese mainland students, 41 percent were undergraduates and 39.6 percent were graduate students.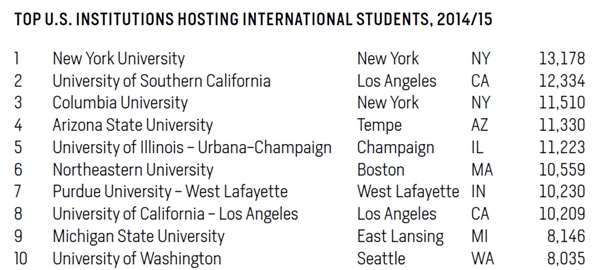 Top 10 US institutions hosting international students in 2014-15 academic year [Photo from Open Doors Report/Institution of International Education]
Overall, India, China and Brazil accounted for most of the growth in international students on US campuses in the current academic year.
International students in all 50 US states contributed more than $30 billion to the US economy in 2014, according to the US Department of Commerce. That includes $9.8 billion contributed by students from the Chinese mainland.
Meanwhile, the Open Doors report found that the number of US students studying abroad grew 5 percent in 2013-14, the highest growth rate since before the 2008 economic downturn.
The report shows that study abroad by American students has more than tripled in the last two decades, reaching a high of 304,467.
Britain, Italy, Spain, France and China were the top five destinations for US students studying abroad, but the number of US students in China dropped 4.5 percent in the 2013-14 academic year to 13,763.
Evan Ryan, US assistant secretary of state for Educational and Cultural Affairs, said in a news release: "It is critical that we continue to make study abroad more accessible. These exchanges strengthen ties between the United States and countries around the world."
"International experience is one of the most important components of a 21st century education," said IIE President Allan Goodman. "Studying in another country prepares students to be real contributors to working across borders to address key issues in the world we share."
US President Barack Obama announced the 100,000 Strong Initiative when he visited China in November 2009, with a goal of sending 100,000 American students to China in the following four years.
During President Xi Jinping's state visit to the US in late September, Obama announced the 1 Million Strong Initiative, to expand to 1 million the number of US students studying Mandarin by 2020.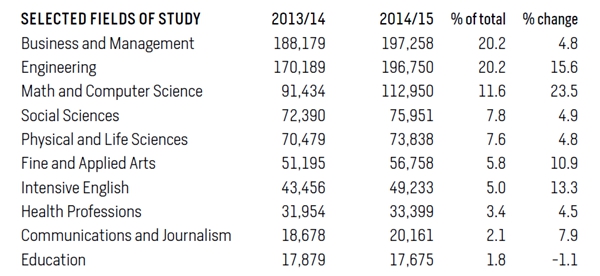 Top 10 selected fields of study for US international students in 2014-15 academic year [Photo from Open Doors Report/Institution of International Education]