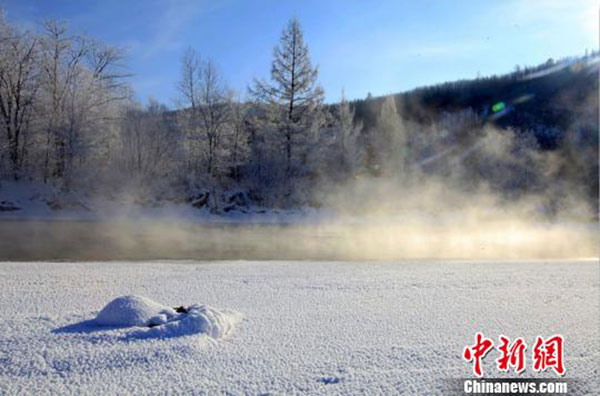 A mountain area in Huzhong. [Photo/Chinanews.com]
If you thought it was cold where you are at this moment, then a visit to Huzhong, northeast China's Heilongjiang province, might change your mind.
A cold front plunged the temperature well below the freezing point to -38.6 C on Tuesday, the lowest this winter, Chinanews.com reported.
Emergency measures have been adopted by the local heating department to increase heating temperature.
With the average temperature hovering around -4.3 C, and the lowest recorded at -53 C, Huzhong, on the north foot of the Greater Hinggan Mountains, has been dubbed the coldest town in the country.
Huzhong's population is 56,935, according to the sixth national population census in 2010. Twelve ethnic minorities live there, but only account for 3.5% of the total population.
On a related note, Beijing is set to be transformed into a winter wonderland again this Thursday, as weather reports predict various degrees of snow throughout the city.