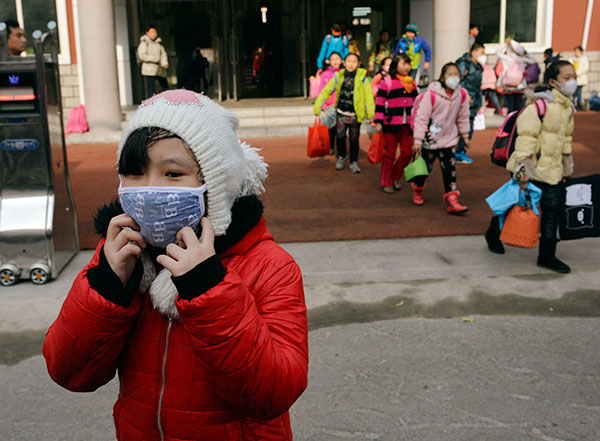 Primary school students in Shenyang, Liaoning province, wear masks to protect themselves from pollution on Nov 13. Provided to China Daily
China's national observatory lifted a yellow warning for smog on Sunday, as cold air will disperse lingering air pollution in North China in the next few days.
The National Meteorological Center said a cold front will gradually bring improvements until midweek.
The Ministry of Environmental Protection said it will continue to supervise efforts to curb pollution across the areas affected.
Beijing saw its readings of PM2.5, fine particulates which can harm human health, reaching around 190 micrograms per cubic meter as of 4 pm on Sunday.
This is the second-most hazardous level of the six used in measuring smog, the monitoring station said. "The Beijing-Hebei-Tianjin region has seen a deterioration in air quality from Friday, with readings of PM2.5 increasing by 1.1 percent by Saturday," Luo Yi, head of environment monitoring under the ministry, said on Sunday.
As better weather conditions disperse air pollutants, which are coming mainly from coal-fired heating boilers, the region will see an improvement in air quality, Luo said.
Only the southern part will be left with light pollution.
Areas in the northeastern region that have encountered the most alarming readings of PM2.5-Shenyang, for example, which exceeded 1,400 micrograms per cubic meter on Nov 8-will also see their air quality improving from Monday.
After thick haze shrouded the cities in these regions for days, the ministry sent teams to monitor efforts used to curb pollution.
Their second round of inspections, conducted from Thursday to Saturday, found coal-fired heating plants to be a major source of pollution.
At least 17 coal-fired heating plants were discharging untreated pollutants directly into the air, said Zou Shoumin, head of the environment inspection bureau at the ministry, on Sunday.
For example, the Jieneng Thermal Plant in Harbin, Heilongjiang province, has installed three boilers which reduce the emission of sulfur dioxide, but it continued to use two boilers that discharged excessive pollutants into the air, Zou said.
The ministry will continue to monitor the northeastern region and sent another four inspection teams there on Saturday.
Many residents in the polluted cities stayed indoors over the weekend.
Li Li, 52, said she had to walk around her apartment in Beijing to get exercise because "the choking air made it hard to breathe outside".
Zhang Yajun, 28, from Shijiazhuang in Hebei province, went to Beijing to see the yellow-leaved gingko trees on Saturday, but said the hazy sky spoiled the views.
Several drugs containing traditional Chinese medicines have become popular online since the pollution worsened.
The substances are believed to clear particles from the lungs.
But some doctors said they are not effective and may even pose risks to people with lung diseases.
"People should stay indoors on heavy smog days, especially children and senior residents, and wear masks outside," said Jiang Xuemin, a doctor from the Center for Disease Control and Prevention in Changchun, Jilin province.