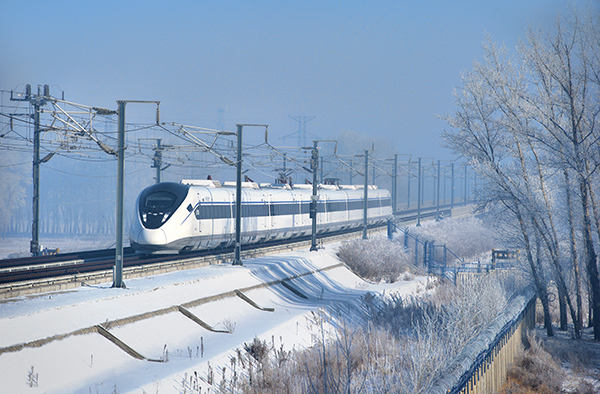 A CRH2G bullet train, which can withstand extreme weather, strong wind and sand, makes a test run on the Lanzhou-Urumqi high-speed rail line. PROVIDED TO CHINA DAILY
Chinese train maker CRRC Corp Ltd will put high-speed trains into operation by the end of the year that can run in adverse weather conditions and extremely low temperatures, officials said on Thursday.
CRRC said it has received approval from the National Railway Administration for the CRH2G high-speed train, which can operate in temperatures as low as-40 C and also in sandstorms and strong winds. In addition, it can be used in altitudes as high as 3,600meters.
Ji Jialun, a railway expert at Beijing Jiaotong University, said that the new model may open market possibilities in regions like the Middle East and Russia, where trains are required to withstand sand-storms and extreme weather.
According to company officials, the new bullet trains were developed after three years of research and development.
Qingdao Sifang Co Ltd, a CRRC unit, will make the trains, which will be used in the Lanzhou-Xinjiang high-speed railway line by the end of the year, according to Cheng Jianfeng, a senior engineer and designer with Qingdao Sifang.
"The high-speed line will connect Lanzhou, capital of Gansu province, and Urumqi, capital of the Xinjiang Uygur autonomous region. The CRH2G provides more adaptable options for domestic bullet train networks in deserts and plateaus," he said.
In Xinjiang, a region with an arid climate, the railway passes through four major high-wind areas. The biggest challenge in operating a high-speed train in the region is how to cope with strong winds that bring sand and dust.
A normal train that runs between Lanzhou and Urumqi has to be cleaned every three days. The new model, however, needs to be cleaned just once in one or two months, which will help save on energy and maintenance costs, said Cheng.
"The CRH2G is also suited to the diversified requirements of various countries. It will help boost China's high-speed train exports and improve its competitiveness in the global market," said Cheng.
China has built a high-speed railway network of about 17,000 kilometers, accounting for more than 60 percent of the world's total.
Contact the writers through lvchang@chinadaily.com.cn
Lan Lan contributed to this story.