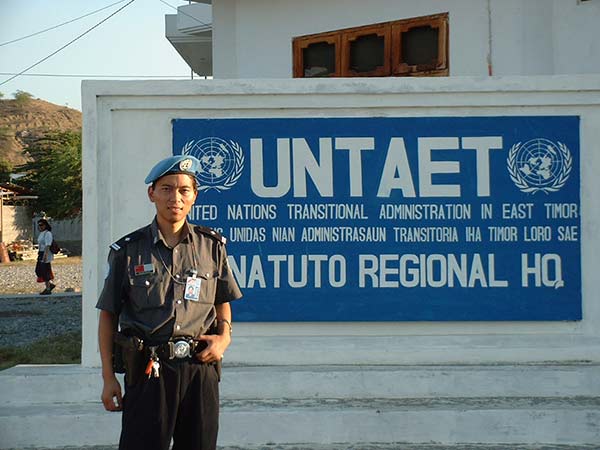 Huang Wei [Photo/China Daily]


Experience in Africa laid groundwork for his success in role for peacekeeping missions
In July, after four years of recruiting police officers for the Department of Peacekeeping Operations of the United Nations, Huang Wei, 49, associate professor at Hunan Police Academy, returned to China.
It was the third time since 2000 that Huang had taken part in the mission. Back then, he overcame fierce competition to become a member of the UN peacekeeping force in East Timor.
There was high demand for candidates with skills in English, shooting and driving.
His outstanding personal qualities set him apart from the competition, and he was appointed to the post of chief of the Logistics Department in 2001.
Among the required skills, Huang insisted that command of language is most important.
"As the peacekeeping police, we have to communicate with the local residents frequently," he said. "If we can't have unimpeded communication, the issues may be aggravated and even have fatal consequences."
Now besides communicating in English fluently, Huang can understand a variety of accents, a new skill he attributes to the complicated work environment.
Back in 2000, China just started to participate in peacekeeping missions and lacked the resources and experience to contribute fully.
"Before departing, I completed a series of special training programs to enhance my physical and psychological capabilities," Huang said. "I prepared for the challenges, including extreme natural environments and the grim situation in East Timor. And I didn't tell my parents, in order not to worry them.
"But when I got there, I was overwhelmed by a series of difficulties beyond my imagination."
East Timor, with a tropical climate, has capricious weather and is often hit by floods. Once during the mission, a colleague's car was trapped in floodwaters after a flash flood ruined the road.
"We had to call for help with the wireless apparatus after climbing up a tree," he said.
In 2003, Huang was appointed chief of China's first contingent of peacekeeping police assigned to the United Nations Mission in Liberia. The mission in the unstable country, with extremists running rampant in the region, lasted one year.
"In Liberia, we faced many difficulties. Both the natural conditions and security are terrible there," he said. "The mosquitoes can take lives, and even the water could be poisonous."
During the first month he was there, he and a colleague were sent on patrol missions in Monrovia, the capital city, Huang said, they often met armed militants and even children with guns.
"However, it is encouraging that the Chinese peacekeeping police won the trust of local residents. One of our neighbors even wanted his kid to learn Chinese kung fu," he said.
In 2011, after passing the enrollment exam of the UN's Department of Peacekeeping Operations, Huang was appointed as a recruiting officer for peacekeeping operations.
"It is a hard job that requires a meticulous working attitude," Huang said. "The experience of the peacekeeping missions in East Timor and Liberia helped me a lot. I had made enough preparations."
It took him only two months to become familiar with the recruitment process - much less than what was expected.
Because of his excellent performance, the United Nations extended his contract twice, making him the first Chinese senior and middle-level police officer to work at the UN in New York for four years.
During that time, he reviewed more than 3,000 resumes of police officer candidates who were recommended from various nations throughout the world and set up more than 1,000 teleconference interviews.
In addition, he succeeded in recruiting 60 senior and middle-level police officers for the 10 mission areas for which he had responsibility.
"There was lots of work to do every day," Huang said. "I didn't even have time to visit the new World Trade Center, which is only a half-hour's drive, until my last day in New York."
Huang was awarded the UN Peace Medal for outstanding contributions in 2001, 2004 and 2012.
"My child was only seven years old when I first left home to join the peacekeeping mission," Huang said. "I am guilty of spending little time on family, but fortunately they gave me great support, and they are proud of my playing my role as a Chinese police officer successfully."
Contact the writer at zhouhuiying@chinadaily.com.cn