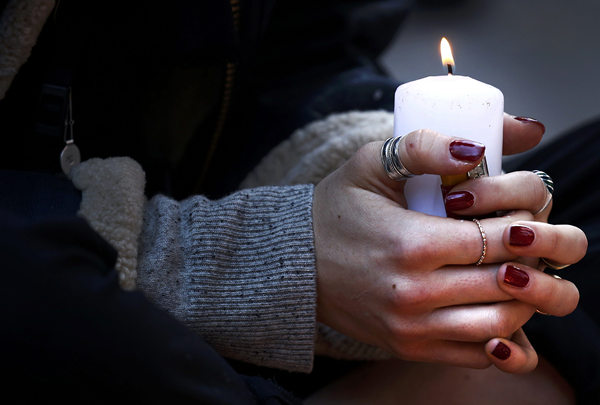 A woman holds a candle as she pays her respect at one of the attack sites in Paris, November 15, 2015. [Photo/Agencies]
Zhang Lingfei and her friend, another Chinese student, had talked in happy, excited tones about their upcoming adventure before their arrival in Paris on Friday afternoon.
But on the very evening of their arrival, the two women who study in Britain had dinner in an eatery close to the Cambodian restaurant that came under attack by terrorists. They were not alone among Chinese visitors who came too close for comfort to the carnage.
"When one of the staff at the restaurant told us that there was a shooting in the nearby restaurant, we were not very scared at first," Zhang, in her 20s, told China Daily.
"But through the window, I saw many people running very rapidly along the road. Some ran into the nearest store or restaurant. We suddenly realized that the situation was severe, then we backed away from the window immediately and went to the ground floor with other customers and staff."
"We all hid inside and heard loud bangs which were believed to be gunshots. We were very nervous since we encountered such a situation for the first time," she said.
"People outside were still trying to escape. I saw a pair of couples knocking on the restaurant door, seeking a place to hide, but they ran away very quickly before the boss unlocked it."
The staff turned the lights off in the restaurant so as not to be noticed by the attackers, she said. "Everybody was in a kind of, I would say, utter disbelief. It was quite a shock for all of us," Zhang added.
"We don't know how long we hid in this restaurant. Then as there were more and more police outside, we got out," Zhang said, adding that they had to walk a long way to their hotel because they couldn't find a taxi and the subway station nearby was closed.
Another Chinese visitor, Liu Zheng, an employee of Pro-Health (China), a healthcare product company, said that over 1,200 employees of the company who visited Paris also were present during the horrific night.
"It was the biggest Chinese tour group in Paris on Friday," Liu said, adding that they had dinner in a Chinese restaurant which very close to the Bataclan Concert Hall, where dozens died.
"Because the group is very big, it was lucky that French police patrolled outside the restaurant to keep us safe. So most people in the group were calm after the attack," Liu said.
"We heard lots of sounds of police and ambulances on the way from the restaurant to our hotel, Hotel Mercure."
Wu Changhong, a Chinese who lives in Paris, said he heard the sounds of the police response at his office, which is only 3 minutes' walk to the concert hall. "My friend told me that he heard many gunshots around 10 pm."
Zhang Xuanchi, a Chinese woman, also had dinner in a restaurant near the location of one of the shootings. "With screaming and lots of noise, some people ran into the restaurant to hide in a panic. A little French girl couldn't stop crying as she and her mother and got inside," she said.
Dai Haijuan, a Chinese visitor in Paris, said: "Many families were crushed by the terror attacks. We mourned all the victims deeply."
Ma Chi contributed to this story.