A Chinese citizen injured in the terrorist attacks in Paris is in good condition after receiving medical treatment, the Chinese embassy to France confirmed on Sunday.
The embassy didn't release any other details but said it will offer help to Chinese citizens after the wave of attacks in the French capital left 129 people dead.
The bloodshed sent shockwaves through China's tourist industry as Paris is one of the most favored destinations in Europe among Chinese travelers.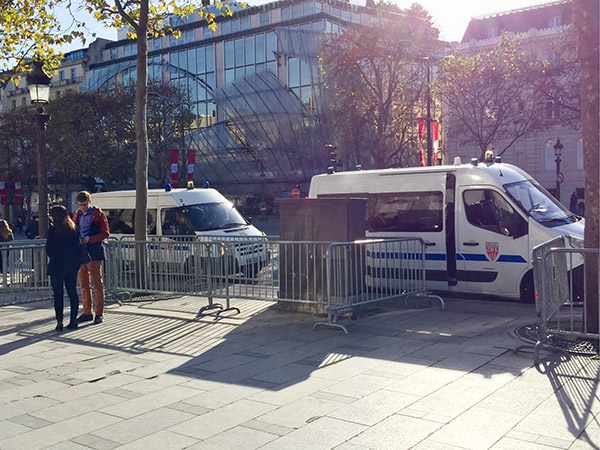 Police vehicles park in the Avenue des Champs-Élysées in Paris, Nov 15, 2015. [Photo by Tuo Yannan/chinadaily.com.cn]
As many as 1,299 Chinese tourists, in 40 groups, could have been in Paris on Friday evening (local time) when gun and bomb attacks rocked entertainment sites in the city, according to data from the China National Tourism Administration.
Tour agencies are on alert and have activated emergency systems, news website the paper.cn said.
Travel company Ctrip is trying to reach about 400 clients who had planned to stop over in Paris but have returned to China.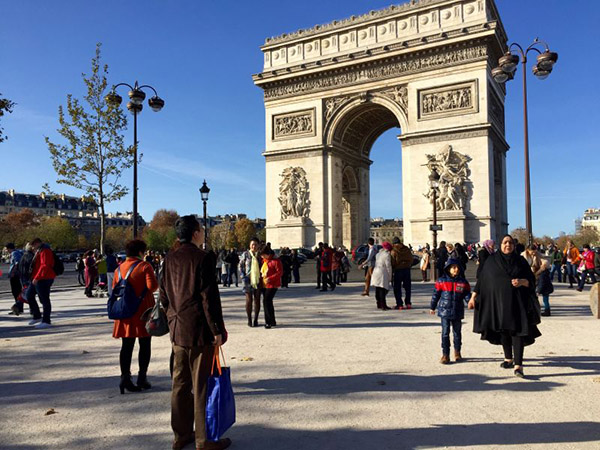 Visitors are seen at the Arc de Triomphe in central Paris, Nov 15, 2015. [Photo by Tang Shuyue/for chinadaily.com.cn]
Some, though not all, cafes, cinemas and stores along the Avenue des Champs-Élysées, an otherwise pedestrian-packed boulevard, remained open on Sunday amid intensified police patrols.
Scattered visitors were also seen at the Arc de Triomphe, another major attraction in central Paris.
So far China hasn't issued a travel alert to France.