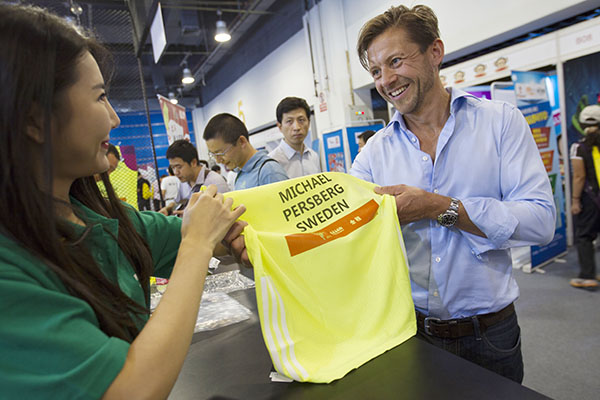 Michael Persberg, a marathon runner from Sweden, has his running vest personalized with his name and country at the Beijing Marathon Expo on Friday. [KUANG LINHUA/CHINA DAILY]
Thanks to customized services, the demanding, 42.195-kilometer run of this year's Beijing Marathon on Sunday is expected to become a fun way for participants to show off their personalities.
Don't be surprised to see some odd slogans on the backs of the runners, such as "please marry me" or "catch me if you can", when the race starts on Sunday morning in Tian'anmen Square.
Participants in this year's race could apply for personalized printing on their official running vests through a mobile platform, a service provided for the first time in the race's history.
According to China Run, which is offering the service and is the online registration partner of the organizing committee, runners can submit preferred slogans of around 20 characters each and collect their customized outfits in about 10 minutes at the Beijing Marathon Expo, held from Thursday to Saturday at the National Convention Center.
More than 700 runners have customized their vests since the expo opened, according to Wu Yun, a service manager of China Run.
With the popularity of long-distance running soaring in recent years, more urban youths have adopted the exercise as a way to show off their personalities as well as their fashion taste, as demonstrated by self-decorated running out-fits at marathon races nation-wide.
"Writing a few words on uniforms has been a popular way for young runners (to stand out), but sometimes it went against rules set by race organizers. Our service just caters to their growing demand to show their distinctive attitude," Wu said.
Services to make the physically demanding race fun also include motion-capture photos shot at 33 spots along the course, which starts in Tian'anmen Square and finishes at Olympic Park.
All runners will be able to receive pictures of them taken during the race in three days after they sign up at the finishing point. The service is free. Wang Dawei, vice-chairman of the Chinese Athletics Association and deputy director of the organizing committee, said upgrading services has been a new goal for the race. Boasting a long history-it debuted in 1981-as well as a course that connects major landmarks in the city, the Beijing Marathon has become the most appealing one in China. This year, more than 60,000 runners applied for the 30,000 available places.
A growing number of elite foreign athletes, such as female runner Abebech Bekele of Ethiopia, have joined the race.
"I've long heard about the race and the course," said Bekele, who will race in Beijing for the first time. "I am looking forward to setting my personal best result here."
Organizers are upbeat about the race's future.
"It takes time for emerging marathon races in China to catch up with established international events, but we are confident that we will make sound progress quickly," said Sun Liping, general manager of China Olympic Road Running Co, co-organizer of the race.