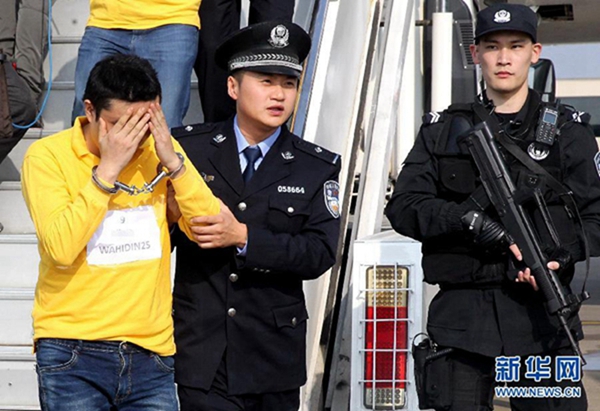 Suspects involved in telecom swindle cases are escorted off an aircraft by the police at Pudong International Airport in Shanghai, Nov 10, 2015. [Photo/Xinhua]
Among the 254 suspects, 47 were arrested by Shanghai police in Indonesia and returned from Jakarta to Shanghai Tuesday.
"Shanghai police have been fighting transnational phone-fraud crimes on a large scale in recent years," said Bai Shaokang, deputy mayor and director of Public Security of Shanghai.
Shanghai Police trawled through more than 45,000 phone calls from Indonesia since July, uncovering 453 suspected victims. By talking to them police identified clues leading to the suspects' locations in Indonesia.
Wei Jian, a deputy division leader of Shanghai Public Security Bureau, said the den he was most impressed by was in Surabaya in Indonesia.
A four-floor villa covering an area of more than 400 square meters had many steel cots for workers on the second floor.
A suspect said that they worked from 8 am to 5 pm, and each had to hand in the names of at least 150 potential victims every day. Monthly salary was 10,000, depending on performance.
"We were pressured every day," said a suspect, adding that if someone could not finish his task several days in a row, he might get fired.
Suspects were divided into teams, with managers at different levels supervising. Every fraud phone call was recorded, and managers commented on the records every night.
Suspects pretended to be staff of mobile companies such as China Unicom and China Mobile, banks such as Bank of Shanghai and Industrial and Commercial Bank of China, and staff of other financial companies.
Police discovered that the gang even used to pretend to be staff at sub-offices of Shanghai and Beijing Public Security Bureau.
Wei said: "recruiting (workers) in China and sending them to dens abroad" has turned into an "industrial chain".
Suspects had been recruited in China for highly-paid jobs abroad, and got visas in the southern city Shenzhen before being sent abroad. They were usually transferred in Hong Kong instead of flying directly to the destination to avoid being noticed by police.
As soon as they arrived they were met and sent to the dens. The suspects live in villas and start calling soon after brief training.
New members' passports are usually handed in, to keep better control and they are not allowed to use mobile phones, getting a small of money every month.
A joint operation between Indonesian police and Chinese opposite numbers from Shanghai, Beijing, Guangdong and Taiwan was launched in September after several phone fraud dens targeting China were discovered.