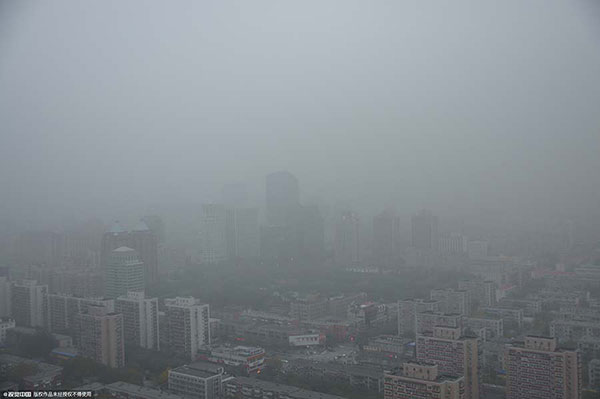 An aerial view of Beijing covered in haze, Nov 10, 2015. Northern China typically burns coal to heat homes in the winter, a practice that increases air pollution. [Photo/CFP]
Beijing will experience five days of poor air quality partly caused by heating systems being turned on, officials announced on Tuesday.
Pollution is expected to be moderate to severe in the next two days, but may drop a little due to possible rain on Friday before rising again during the weekend, Beijing Environmental Protection Bureau has forecast.
"Pollution caused by heating systems is one significant factor, while high humidity and little wind are unfavorable weather conditions for the diffusion of pollutants," said Zhang Dawei, director of the bureau's municipal environmental monitoring center. "But we are expecting that haze and fog will be blown away when the wind comes next Monday."
Thick fog and haze shrouds Beijing and other northern cities in the winter when heating systems start operating.
"It has been the case for years," said Zhang, "but the number of days with heavy pollution in Beijing has significantly decreased compared with the same period in previous years."
The city has witnessed a significant improvement in air quality in the past 10 months. The average concentration of PM2.5, fine particles that pose particular hazards to human health, was 69.7 micrograms per cubic meter in the city, down 21.8 percent from the same period last year.
Strenuous efforts to improve air quality, including replacing coal with natural gas for heating and closing down heavily polluted factories, have worked well, Zhang said.
But recent heavy pollution in Shenyang, Liaoning province, has some anxiety.
On Sunday, the reading was as high as 1,400 micrograms per cubic meter at some monitoring sites in the city.
The province will continue to suffer from heavy smog on Wednesday, according to the National Meteorological Center.
"I felt that the heavy pollution might have to do with what is happening in Shenyang, because wind blows it," said Zhang Yuan, who lives in Beijing's Haidian district and was wearing a mask to go outdoors.
"We understand why people worry about the air pollution, but we also want to clarify that pollution in Liaoning province is not likely to affect a place as far away as Beijing," said Wang Bin, head of the emergency management office of the bureau. "We will increase the frequency of air monitoring, and will inform the public."