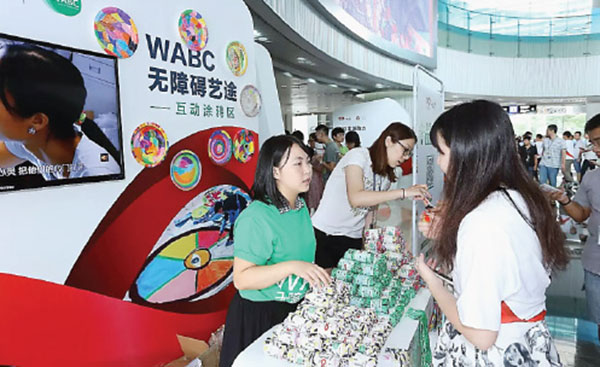 A Tencent employee, and charity supporter, explains to a visitor how to take part in Tencent's program. [Photo provided to China Daily]
Donations to charity from home and abroad surpassed the 100 billion yuan ($15.7 billion) mark in 2014, without any major disasters occurring during the period, according to an annual report released on Saturday.
However, donations from the public only accounted for 11 percent, dropping for a third consecutive year, said the report.
The report was released by the China Charity and Donation Information Center, an organization affiliated with the Ministry of Civil Affairs. It has researched charity donations and issued annual reports since 2008.
The charity report said that China received around 104.2 billion yuan in total donations, accounting for 0.16 percent of the nation's GDP in 2014. Donations increased by 5.3 percent compared with the previous year, almost reaching the peak figure of 2008, when the massive earthquake took place in Wenchuan, Sichuan province.
The largest single donation in China's history was made in April 2014, when Alibaba Chairman Jack Ma and Vice-Chairman Joe Tsai together donated 2 percent of Alibaba's stock rights to establish a charitable trust fund, accounting for 24.5 billion yuan calculated by the share prices at that time.
"In 2008, the total value of donations also exceeded 100 billion yuan. However, about 70 billion yuan was specifically related to the Wenchuan earthquake," said Peng Jianmei, head of the information office at the center. "In 2014, we still have 98.6 billion yuan excluding those donations for natural disasters."
Tao Chuanjin, director of the Research Center of Philanthropy and Social Enterprise at Beijing Normal University, said natural disasters boosted public enthusiasm for charity.
"In China, people's willingness to give is not only disaster-driven," said Tao. "It is becoming a habit."
However, the report showed that companies at home and abroad were still the main contributors, accounting for up to 70 percent of the total donations, while only 11 percent came from the public. Only 2.5 percent of the total donations were made to the Red Cross Society of China and its affiliated institutions.
Ma Tianhao from the donation service department of the center said that this doesn't mean that the public's passion for donations is fading.
"More individuals prefer to donate on behalf of companies instead of themselves," he said.