Student charity inspires others to give back
A student charitable organization in the San Francisco Bay Area is trying to motivate more Asian-American students to get involved in community service.
Help Everyone and Remember to Share (HEARTS), a non-profit organization that helps needy children, held a fundraiser called Succeed and Help Succeed on Sunday in Sunnyvale, California, to raise the awareness of students, especially Asian Americans, to give back to the community. More than 100 parents and students attended and made contributions.
"One of the things that Asian-American students are missing is the community service," said Albert Zeng, founder and co-president of HEARTS. "A lot of Asian Americans focus on tests, doing well in SAT and AP exams, but a lot of colleges really want to see community service.
"That's why I try to get my friends and more students involved in this, because this is something that not only helps us but also helps others as well," said Zeng, a 17-year-old student at Monta Vista High School in Cupertino.
During Sunday's event, HEARTS, whose members are mostly secondary and high school students in the Bay Area, donated $3,000 to the Second Harvest Food Bank of Santa Clara and San Mateo Counties. The group also collected thousands of dollars to support children in China.
Seven years ago, Zeng and his two sisters were inspired to set up the non-profit during a visit to their father's hometown in Hebei province, where families usually can afford to educate only one child.
Zeng said none of his father's siblings had the opportunity to attend school, as his grandparents were able to send only his father to school.
"They (his aunts) can't even write their own names," he said. "Here in America, everyone gets education. It's not fair for them not to have the opportunity to improve their lives.
"We want to give these people, who otherwise didn't have the opportunity to go to school, the chance to improve their lives, to get higher-paying jobs and ultimately live better," Zeng said. "That's why I think this opportunity is so important to them."
Currently, HEARTS has been sponsoring 55 needy children in Hebei and Shaanxi provinces, helping with their education. The group also has donated about 10,000 meals to hungry people in San Jose as well as 36,500 pounds of fresh produce to the local food bank.
"We exist in a community, so we have a social responsibility to that community, because government can't solve all the problems," said Carl Schmidt, chairman of the business department at Monta Vista.
"In Silicon Valley, we live in a global village, so our responsibility is not just here, but everywhere we do business. So individuals have a responsibility to the ability of their needs to contribute to that," said Schmidt, who also attended Sunday's fundraiser.
HEARTS has set up six local chapters in the Bay Area with more than 60 members. As co-president of HEARTS, Zeng said one of his objectives was to "empower the next generation of students" to be able to continue the job, as he is graduating next year.
"I can't do this forever," he said. "Even if I could, I wouldn't do that, because we want to make other people be able to do it as well. It's also about helping other people get this power to help others as well.
"If you are able to lead a group of people to do community service, I think that's a lot of time even more important than doing well in school," he said.
liazhu@chinadailyusa.com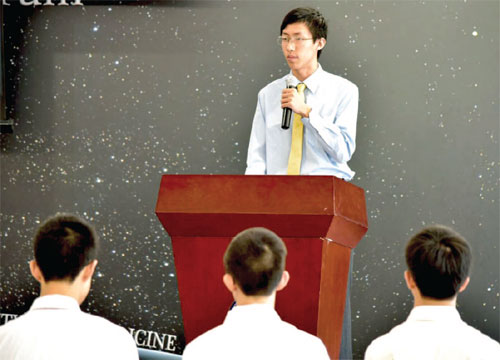 Albert Zeng, founder and co-president of Help Everyone and Remember to Share (HEARTS), a non-profit organization that helps needy children, tries to inspire more Asian-American students to get involved in community service with his organization. Lia Zhu / China Daily