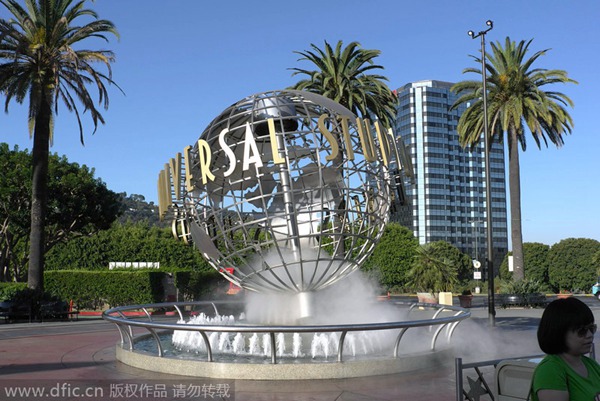 View of Universal Studios' theme park in Los Angeles, Oct 2, 2012. It is a must-see for visitors from all over the world to have an ultimate Hollywood experience. [Photo/IC]
A contract has been signed between the Chinese and the US parties to build a Universal Studios theme park in Beijing's east suburban district of Tongzhou, the newly confirmed second administrative center of the city, Beijing Youth Daily reported Monday.
The Beijing Universal Studios project was approved by the National Development and Reform Commission in September 2014 and was directly led by the Beijing government. Li Shixiang, Member of Standing Committee of CPC Beijing Committee and executive vice-mayor of Beijing, attended the signing ceremony at New York headquarter of the US cable company NBCUniversal on Sunday.
According to the contract, a joint venture company will be set up to carry out the construction. The park, expected to open in 2019, covers 2.02 million square meters of floor space and is set to attract a total investment of 50 billion yuan ($7.98 billion).
The Universal Studios theme parks boast of offering a behind–the-scene look at movie making. Its Beijing location, the sixth of its kind in the world and the third in Asia, will become the largest one.
The first stage of the project includes a Universal CityWalk retail-entertainment complex and the world's first Universal-themed resort hotel, both being completed in five years. Another theme park, a water park and five other resort hotels are planned to be built in the second stage.
Traditional and modern Chinese culture elements have been incorporated in the planning to boost the city's tourist appeal to foreign visitors, according to the culture and tourism administration bureau of Tongzhou district.
The US side also promised to put the world's best and popular entertainment projects into the Beijing Universal Studios, with the Hollywood filmmaker Steven Spielberg involved in the design of the park.
Subway Line 7 will be extended to reach the park and put into use before the opening to meet the demand of the tourists.
Universal Studios theme parks around the world
Universal Studios now operates five theme parks - in Los Angeles, Orlando, Osaka and Singapore.