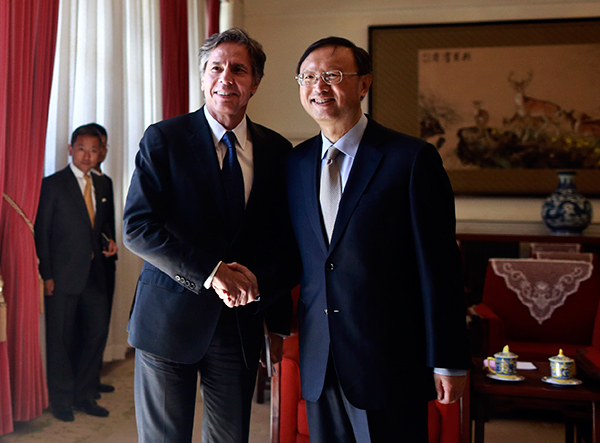 State Councilor Yang Jiechi meets with US Deputy Secretary of State Antony Blinken on Thursday. FENG YONGBIN/CHINA DAILY
China and the United States should push forward the healthy and stable development of bilateral ties by implementing the consensus reached during President Xi Jinping's state visit to the US, State Councilor Yang Jiechi said on Thursday.
The two countries' leaders set the China-US relationship heading in the right direction and greatly boosted cooperation on bilateral, regional and global issues during Xi's visit, Yang told visiting US Deputy Secretary of State Antony Blinken in Beijing.
Xi made a state visit to the US at the invitation of US President Barack Obama late last month. The two sides reached important agreements in fields including economics, trade, energy, science and technology, agriculture, law enforcement, cybersecurity and infrastructure.
Xi's successful visit to the US has shown to the world that the US and China can enhance meaningful cooperation on a series of important issues, Blinken said.
The US would like to work with China to implement the consensus and agreements made during Xi's visit, as well as push forward the development of bilateral ties, he added.
Before his trip to China, Blinken visited Japan on Monday and the Republic of Korea from Tuesday to Wednesday.
His final stop will be in Shanghai on Friday to meet with government officials, financial experts, entrepreneurs and US government exchange program alumni to discuss a range of bilateral and regional issues.
According to a news release from the US State Department, Blinken "will discuss the next steps in the US-China engagement and areas for cooperation on global challenges, as well as exchange views on bilateral and regional issues".
In a speech on Wednesday, Blinken said in Seoul that the recently concluded Trans-Pacific Partnership does not aim to isolate China, and that Washington welcomes Beijing's participation under the right conditions.
"It is not designed to encircle China," Blinken was quoted as saying by the Yonhap News Agency. "If China is interested in pursuing membership and if it is able to meet the standards, we would welcome that."