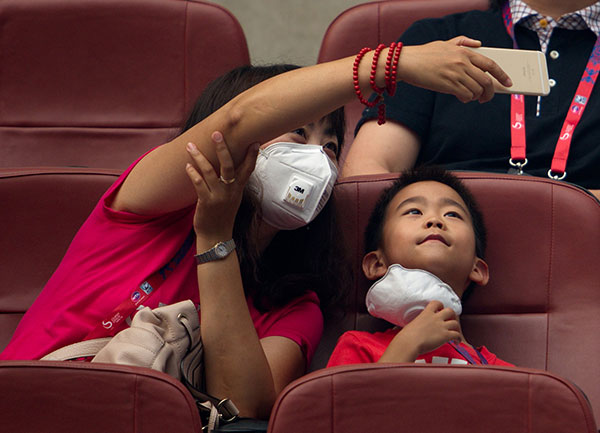 A mother and son pose for a selfie on Wednesday during a break in the China Open tennis tournament in Beijing, where smog has persisted for days.[Wei Xiaohao/China Daily]
As millions of travelers headed home on Wednesday on the last day of the weeklong National Day holiday, many in northern China, including in Beijing and Tianjin, encountered thick smog that cut visibility, hampered traffic and soured their mood.
Beijing has been blanketed by heavy haze since Monday. The smog grew worse by Wednesday, when by 2 pm the concentration of PM2.5-airborne particulate matter with diameter of 2.5 microns or less that can penetrate the lungs and harm health-had climbed to 313 micrograms per cubic meter, the Beijing Environmental Monitoring Center said.
Unfavorable weather conditions and the burning of straw were considered the major causes of the heavy air pollution, the center said.
Parts of Hebei, Shandong, Liaoning and Jilin provinces also experienced smog in the final days of the holiday, which began on Oct 1.
In the capital, winds has dispersed the pollutants beginning Wednesday evening, bringing better air quality in the next two days.
"The heavy air pollution made our trip back even harder from the beautiful coastal city in Xiamen, Fujian province," said Chen Yang, 28, who added that she enjoyed the sunshine for the past five days.
"We saw amazing blue skies for over 10 days before the military parade (on Sept 3 in Beijing)-why couldn't it stay longer?" she said.
Many netizens complained online about the choking weather, asking for more effective efforts by governments to reduce smog.
Since last year, in addition to tough efforts to reduce industrial production as well as the use of vehicles when confronted with heavy air pollution, environmental watchdogs have more frequently undertaken "direct talks" with governments whose jurisdictions experience heavy pollution.
Officials of five cities were summoned last year to talk with the Ministry of Environmental Protection. According to the ministry, the officials were strongly encouraged to take steps to control pollution.
The number of cities involved in the direct talks had increased to 20 as of October. Hebei has been the province with the most such talks with the ministry since last year.
The talks have had some positive effects on the environment, the ministry said, adding that some cities have sternly punished polluters, resulting in noticeable improvements.
But the mayors of some cities have shown vague attitudes and slow reactions to the requirements, according to the ministry.
It released its regulation on "talks" with governments about environmental pollution in May last year, a public way to urge decision-makers to reduce pollution.
The major reasons for the cities to have the "talks" with environmental watchdogs were the governments' poor performance in meeting annual targets for environmental protection, the large number of complaints from the public about pollution, and serious problems exposed by the watchdogs during inspections, said Wang Dongqing, deputy head of the ministry's monitoring bureau.
Contact the writer at zhengjinran@chinadaily.com.cn