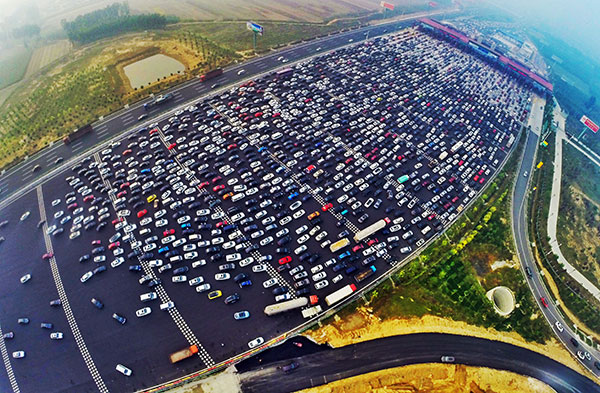 Long lines of vehicles slow traffic at the toll gate of the Beijing-Tianjin-Macao Expressway on Tuesday. Congestion occurred at the site again on Wednesday as holiday travelers headed home.[Fu Ding/China Daily]
Police crack down on driving along shoulder Campaign launched after man dies trapped in car as emergency services try to reach him
Traffic authorities have tightened up the monitoring of drivers using the shoulder on freeways, hoping to ease congestion as the weeklong National Day holiday comes to an end.
The Ministry of Public Security launched a campaign targeting the issue, which is commonplace across China, during the holiday, which led to police dealing with 60,000 cases nationwide.
Among the violations, more than 53,000 were for driving on shoulders illegally, and more than 7,000 were for parking on them, according to the Traffic Management Bureau of the Ministry of Public Security.
Drivers using emergency lanes or shoulders illegally have six points deducted from their license and are fined 200 yuan ($31). Bus drivers will lose 12 points, which means they lose their license.
The penalties are to remain the same, but the ministry wants police to enforce them more rigorously. The campaign was launched after a taxi driver died while he was trapped in his vehicle on Oct 1, the first day of the holiday week.
Emergency services were unable to reach the driver after an accident on a highway in East China's Zhejiang province, because the shoulder was congested.
The ministry has said local police must enhance their road patrols and increase the number of cameras monitoring emergency lanes.
According to a statement issued by the Traffic Management Bureau of the Ministry of Public Security on Tuesday, police must "discover transgressions promptly and impose penalties".
The statement also warned that electronic monitoring devices are operating round-the-clock to capture violations and drivers will be fined. The ministry ordered the police to target congested sections of main freeways.
The National Day holiday is one of two weeklong holidays in China, and holiday traffic is notoriously stressful.
More than 1.2 million vehicles used freeways to enter and leave Beijing between midnight and 4 pm on Wednesday, according to the Beijing Traffic Management Bureau. The bureau was expecting traffic to reach a holiday peak during the day.
Peng Bin, a Beijing resident who drove home from Jiangxi province on Monday, aiming to avoid "horrible traffic", said, "I'd rather shorten my holiday and spend two days at home than wait till the last day and be stuck on freeways like a prisoner."
Traffic police in Shanghai said homecoming traffic reached its peak in the city on Tuesday and Wednesday.
According to the China Tourism Academy, more than 532 million domestic trips were expected to be made over the seven-day holiday period.
Around 10.8 million railway passenger trips were made on Monday, and the number of travelers was expected to be higher on Tuesday and Wednesday, according to the China Railway Corp, which scheduled an extra 315 trains on Monday to meet the surge in demand.
Xinhua contributed to this story.