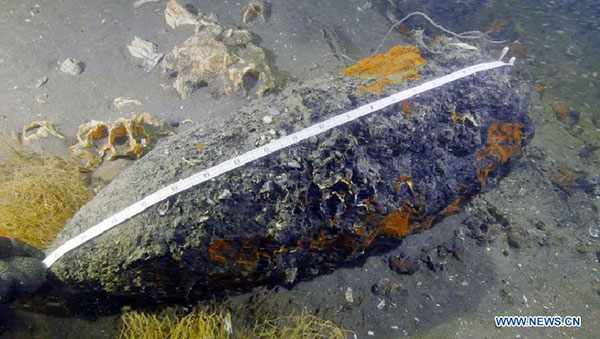 Photo taken on Sept 25, 2015 shows a shell head from "Dandong No 1", a shipwreck discovered last year near Dandong Port, northeast China's Liaoning Province. An archeological team from the National Center of Underwater Cultural Heritage has salvaged more than 100 items from the wreck during the past two months. They confirmed "Dandong No 1" as cruiser Zhiyuan, one of the warships of the Beiyang Fleet sunk by the Japanese navy during the first Sino-Japanese War 121 years ago. [Photo/Xinhua]
Chinese archaeologists are set to start a new round of underwater excavation after a famed late Qing Dynasty warship was discovered in the depths of the Yellow Sea.
The shipwreck that was code-named "Dandong No 1" has been tentatively identified as the Cruiser Zhiyuan of the Beiyang Fleet.
But Song Jianzhong with the National Center of Underwater Cultural Heritage says it is still too early to make a final conclusion on the ship and its history.
"The relics and information currently in hand indicates it's the wreck of the warship Zhiyuan, but more work needs to be done before the publishing of the final conclusion."
The shipwreck was first discovered in 2013.
In the past month, over a hundred relics have been salvaged from the depths of the Yellow Sea, including canons, shells, and other artillery.
The most crucial piece of evidence for the ship's identity is a shattered porcelain plate that features the words 'Zhiyuan' written in the middle of its back.