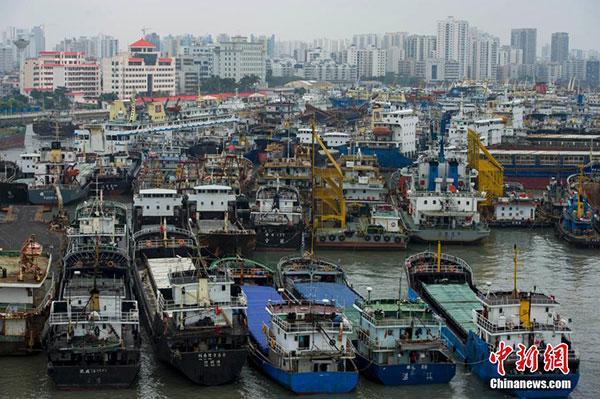 Fishing boats return to harbor as they brace for typhoon Mujigae in Haikou, Hainan province.[chinanews.com]
BEIJING - China is on red alert, the highest level, as typhoon Mujigae is expected to land on Sunday noon.
At 5 a.m. Sunday, Mujigae, the 22nd typhoon of the year, was about 205 kilometers off the coast of Zhanjiang City, Guangdong Province, packing strong winds of up to 48 meters per second, the National Meteorological Center (NMC) said.
The typhoon is forecast to move northwest at a speed of up to 25 km per hour and make a landfall at noon on the shores between Xuwen and Dianbai counties of Guangdong. It is expected to arrive at Guangxi at night.
Mujugae will bring gales and torrential rain to the coastal regions of Guangdong and Guangxi from Sunday to Monday.
Local authorities are on guard against the approaching typhoon.
In Guangdong, 38,900 fishing boats have returned to harbor or nearby shelters. More than 10,000 fishermen went ashore from their fish farms.
The Guangdong provincial government ordered suspension of all maritime travel or entertainment activities.
The high-speed trains linking Haikou and Sanya, both of Hainan Province, have been suspended on Saturday and Sunday. A total of 68 flights from and to the Haikou Meilan International Airport were canceled on Saturday.
More than 25,000 fishing boats in Hainan have returned to harbor and 6,955 fishermen have been evacuated.
The tropical storm coincides with the week-long National Day holiday, and many tourists are vacationing on the island province of Hainan. More than 80,000 people visited Hainan on Friday, up 8.65 percent from the same period last year, statistics from the province show.
China has a four-tier color-coded weather warning system, with red representing the most extreme weather, followed by orange, yellow or blue.