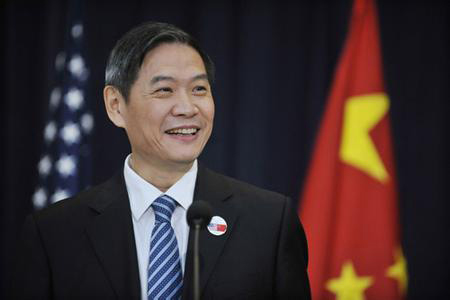 Zhang Zhijun, mainland's Taiwan affairs chief. File photo
Cross-Straits relations are expected to deepen as the mainland's Taiwan affairs chief, Zhang Zhijun, prepares to meet Andrew Hsia, his counterpart from Taiwan, in Guangdong province from Oct 13 to 15.
The State Council Taiwan Affairs Office announced on Oct 1 that Zhang will meet with Hsia, Taiwan's mainland affairs chief, during Hsia's visit to the provincial capital, Guangzhou, and Dongguan in the province's eastern area, and discuss cross-Straits relations.
This will be the fourth meeting between top cross-Straits affairs officials from both sides since last year. This May, Zhang and Hsia had a formal meeting in Kinmen county, a Taiwan islet just a couple of kilometers off the coast of Fujian province.
During the meeting, the two sides agreed to facilitate the inking of a water supply contract between Fujian and Kinmen.
They also agreed to push forward consultations and reach a consensus on commodity trades. In addition, the two sides agreed to promote negotiations allowing mainland air travelers to transfer in Taiwan. The agreement also included strengthening economic and fishery cooperation, exchanges among young and grassroots people, protection of the rights of students and cooperation on repatriation of fugitives.
"Cross-Straits relations have experienced a slight turbulence in the past year, and both sides should be determined to protect cross-Straits relations from U-turns and setbacks," said Ni Yongjie, deputy director of the Shanghai Institute of Taiwan Studies, referring to the ongoing leadership election in Taiwan.
Taiwan's ruling Kuomintang party on Wednesday decided to have a temporary meeting to discuss if they should change its candidate Hung Hsiu-chu, who was endorsed in July. Hung said she felt really sorry for that.
"Before Taiwan elects a new government in half a year, we only have a handful of opportunities to negotiate and cooperate with each other to cope with the new situation and stick to the path of peaceful development and enhance mutual trust, which makes the meeting in Guangdong very important," said Ni.
Ni said the meetings between cross-Straits affairs organs from the mainland and Taiwan are becoming more orderly and steady.
"But I hope it would be more frequent and cover more fields, including the economy, culture and politics. The top leaders from both sides should have regular meetings or contact by telephone," he said. "The exchanges will benefit people from both sides, especially those at the grassroots level."