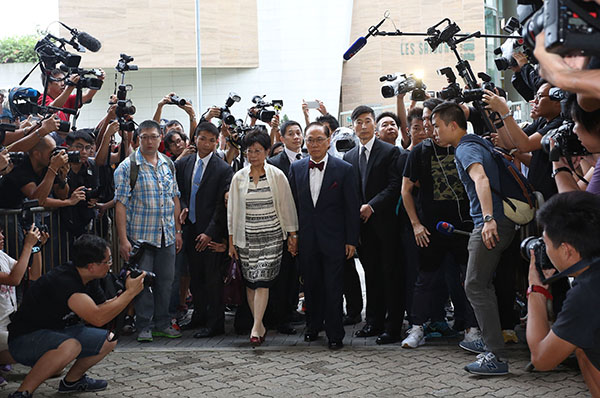 Former chief executive of the Hong Kong Special Administrative Region Donald Tsang Yam-kuen and his wife Selina arrive at Eastern Magistracy in Hong Kong on Monday afternoon. WU YONGJIAN / XINHUA
HONG KONG - Former Chief Executive of the Hong Kong special administrative region (HKSAR) Donald Tsang Yam-kuen appeared at Eastern Magistracy at Monday afternoon to face two counts of misconduct in public office.
Hong Kong's Independent Commission Against Corruption (ICAC) has charged Tsang, 70, with two counts of misconduct in public office, contrary to Common Law.
He has been under investigation by ICAC since he left office in June 2012.
The first charge is in relation to Tsang's failure to disclose his plan to lease a luxury flat in the southern Chinese city of Shenzhen which was owned by a major shareholder of the Digital Broadcasting Corporation Hong Kong Limited applying a licence from HKSAR government, the ICAC said.
Tsang also failed to declare that an architect he proposed for official honors was employed to be responsible for the interior decoration on the Shenzhen flat, the ICAC added.
Tsang was released on cash bail of 100,000 HK dollars ($12,903) and will appear at Eastern Magistracy again on Nov 13.
"My conscience is clear. I have every confidence that the court will exonerate me after its proceedings," Tsang reiterated to the media pack as he left the court repeating a statement he issued around noon.
A spokesman for the Department of Justice of HKSAR told media that the decision to commence prosecution against Tsang was made after careful and thorough consideration of the available evidence, the applicable law and the relevant provisions in the Prosecution Code.
"It is a decision made independently in the due discharge of the department's constitutional duty under Article 63 of the Basic Law, free from any interference," he said.
Tsang served as Hong Kong's Chief Executive from June, 2005 to June, 2012.