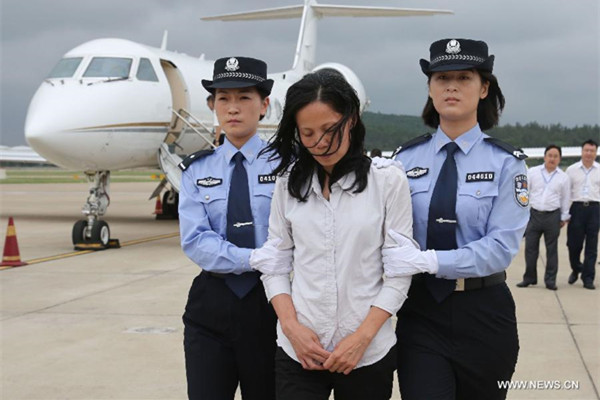 Kuang Wanfang (C), an economic crime suspect, is escorted at the Changle Airport in Fuzhou, Southeast China's Fujian Province, Sept 24, 2015. The woman, who fled to the US in 2001, is suspected of taking part in corruption and bribery, and was repatriated to China thanks to close cooperation between Chinese authorities and their US counterparts. [Photo/Xinhua]
China and the United States will take measures to promote cooperation on mutually identified corruption cases, the Guangzhou-based Southern Metropolis Daily reports.
The announcement comes as Chinese President Xi Jinping concluded his state visit to the United States on Friday where he met President Barack Obama.
"Both sides agree to enhance practical cooperation in corruption prevention, detecting embezzled public funds, exchanging evidence, combating transnational bribery, fugitives and illegal immigrants repatriation, narcotics control, and counter-terrorism," according to a statement published by Xinhua news agency highlighting the outcome of President Xi's visit.
The two sides also agreed to discuss the mutual recognition and enforcement of asset recovery.
In the past, China had to rely on local laws to confiscate stolen assets.
However, different laws and systems pose great barriers to achieving the goal.
The new mechanism between China and the US is expected to speed up and simplify the process, making it more efficient.
The US has repatriated two Chinese fugitives wanted for fraud this month. Kuang Wanfang, an economic fugitive who fled to the US in 2001, was repatriated to China on Sept 24, as well as Yang Jinjun, on Sept 18.
The two countries started the repatriation initiative this April when China's Ministry of Public Security and the US Department of Homeland Security held a first minister-level meeting.
Financial intelligence agencies of both countries are also set to sign a memorandum of understanding (MOU) to exchange information on "money laundering and terrorist financing."