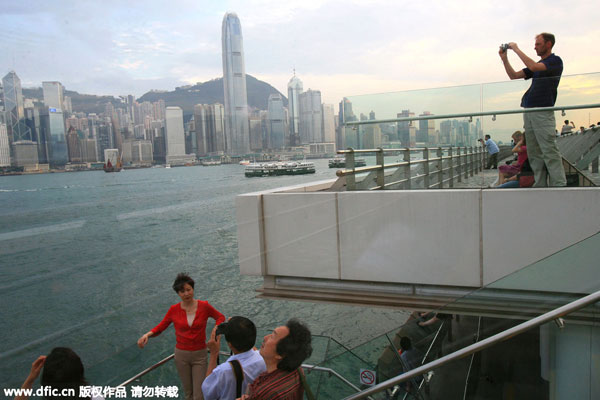 Tourists take photo at Tsim Sha Tsui, Hong Kong in this file photo. [Photo/IC]
The number of Chinese tourists traveling abroad has seen a fast-paced rise during the National Day holiday with surrounding countries including Japan, South Korea, and Thailand among the most popular destinations, according the National Tourism Administration (NTA).
Data from the Nationwide Tourist Group Services Management System shows that outbound tourists (except those heading to Hong Kong) grew by 36.6 percent year on year in the first four days of the week-long holiday, which begins on October 1 and is often referred to as Golden Week.
Chinese online travel platform CTrip said Japan was the most popular overseas travel destination for Chinese mainland vacationers during the holiday, followed by Thailand and South Korea. Hong Kong came in fourth place, followed by Macao.
Compared to last year, the number of Chinese tourists going to Japan during the period doubled, according to NTA.
Japan's popularity among Chinese travelers was obvious within the first six months of this year when some 2.18 million Chinese tourists went to Japan, double from the year before. South Korea said that the number of Chinese traveling to the country is 30 percent higher compared to the same period last year.
Chinese Hong Kong, Macao and Taiwan have also accommodated more mainland visitors than last year. Statistics show that over 90,000 mainland tourists went to Taiwan from October 1 to 7, 20 percent higher than the number in 2014. Hong Kong and Macao respectively received 1 million and 800,000, up 3.26 percent and 6.3 percent.
The National Day holiday has become an annual tourism event for Chinese people. The influx of Chinese visitors has been a welcome shot for host economies. Retailers in Japan, South Korea, and France are becoming more accommodating to Chinese shoppers by introducing Chinese-speaking shopping assistants and welcome signs written in Chinese.
A recent survey by Chinese online travel service providers Lvmama and Ctrip shows that each Chinese outbound tourist, besides expenses on shopping, spends on average about 1,068 yuan ($ 168 every day in the destination country during this year's Golden Week, 12.7 percent higher than last year.
The travelers are mainly from affluent regions including Guangdong province, Jiangsu province, Shanghai and Beijing, the survey said.