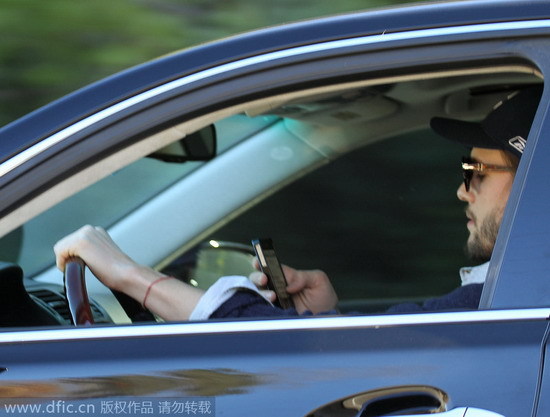 Ashton Kutcher was seen breaking the law as he was texting while driving in Los Angeles, US, on January 4, 2012. [Photo/IC]
A 24-year-old man in Hangzhou, the capital of Zhejiang province, drove his car into West Lake after accidentally stepping on the accelerator while searching for his phone in the vehicle.
The man said he had been playing with his mobile phone while driving last month but suddenly dropped the handset, according to the Ministry of Public Security's Traffic Management Bureau.
He escaped from the car through a window and swam back to shore, the bureau said.
The incident was just one example that has prompted traffic management authorities to warn that drivers risk death or injury if they use their smartphones while on the road.
About 20 percent of drivers use their phones while driving to make calls, send text messages or check their social media accounts, the bureau said on its micro blog during the National Day holiday.
With the number of smartphone users in China estimated at about 500 million and rising, using the phones while driving has become the second most popular bad habit among drivers after failing to wear safety belts, the bureau said.
Its warning was prompted by the obsession for using smartphones while ignoring the surrounding environment.
The bureau said that looking for mobile phones while driving increases the chances of a traffic accident nine times, while sending a text message increases the chances 23 times.
Zhang Lei, a doctor at Beijing Emergency Medical Center, said the number of injuries caused by the obsession with mobile phone use has risen in the city in recent years.
Cases include pedestrians bumping into other people, falling over and breaking their bones while walking and using their smartphones.
Zhang said he once arrived at the scene of a car accident on a highway in the capital, but the car driver, who was stuck under a heavy truck, was already dead.
"We found he was still clutching his mobile phone," Zhang said.
He added that as more people become reliant on or addicted to using smartphones, safety has become an increasing problem.
"There are more valuable things in our lives than electronic products, and we should not become slaves to them," he said.
According to a report by Internet search giant Baidu in May, the mobile Internet has become the main means of communication and information source for young people in China.
The report, based on a survey of more than 11,000 people of various age groups, found that 75.5 percent of those born after 1995 said mobile phone-based chat apps were the most common means of communication with others, followed by phone calls and face-to-face conversations.