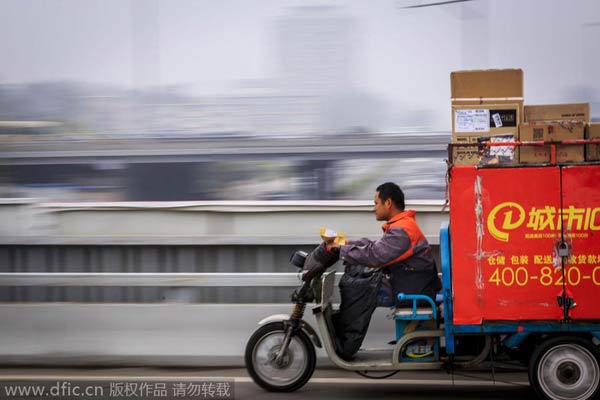 A courier en route to deliver packages in Beiing, Oct 11, 2014. [Photo/IC]
Beijing's quarantine authority is warning against the mailing of unauthorized dangerous substances through the postal or parcel delivery service after HIV-antigens were found in two regular packages.
Zhou Xiaoping, a quarantine officer in charge of air delivery services at Beijing Capital International Airport, said on Wednesday that about 29,400 international parcels and luggage containing dangerous and illegal substances were intercepted at the airport during the first three quarters of this year, a 2.1 percent increase from last year.
Among them, around 1,100 pest-infested items were found in parcels and luggage brought to Beijing. A variety of non-Chinese species, including Pratylenchus vulnus, a parasitic worm responsible for root lesion disease in plants, have been detected in the parcels.
The haul might be only a fraction of the total number of illegal parcels delivered in China because only 3 percent of regular packages are randomly checked by quarantine officers, she warned. All packages marked as containing restricted items must be quarantined.
Quarantine officers and medical experts also said officials should step up efforts to conduct more checks and to educate the public about the importance of quarantine procedures.
Two separate parcels containing HIV-antigens, which could lead to HIV infection, were found in regular packages. Seven vials of HIV-antigen and HIV-antibody were also found in a parcel sent to a pharmaceutical business in Tianjin in August. Another parcel with eight vials of blood products and HIV-antigens was being sent to a biological agent company in Beijing in September.
Zhou said the parcels were declared as regular chemical products that are exempt from quarantine examination. There were no reports of anyone being injured during interception.
"The products are allowed to be delivered through the post or by delivery services under the condition that they go through quarantine procedures and obtain the approval from authorities. Companies and research institutes, with the qualification of managing the substance and with reasonable purpose, will be given the green light."
She warned that the wrongly identified parcels would not be given special attention and the substance in them would easily leak out if they are registered under the names of regular substance. She emphasized that these parcels with dangerous substances can only be received by organizations with the capability to dispose them.
He Xiong, deputy director at the Beijing Center for Disease Control, said HIV-antigen is widely used in drug and diagnostic agent research and development at biochemical and pharmaceutical companies. If it leaks, it might pollute the environment and endanger human health.
He urged border inspection and quarantine authorities to beef up routine checkups to make sure such substances with potential biological risks are packed and transported appropriately.
An average of 12,000 deliveries are processed at the airport each day, but only a small percentage of them are selected for quarantine inspection, said Jia Ruixiang, an officer in charge of parcel quarantine examination.
Employing up-to-date technology in quarantine and raising the public awareness of the need for honest declaration of parcels should be strengthened, Jia added.
Contact the writer at zhang_yi@chinadaily.com.cn