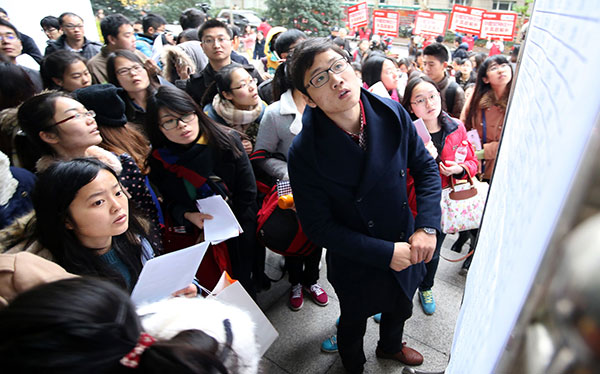 Candidates for the 2015 national civil service exam search for their seats at Nanjing Forestry University in Jiangsu province on Nov 30.[XU YIJIA/CHINA DAILY]
But candidates show no interest in certain positions, with more than 800 left vacant
The number of candidates for the 2016 national civil service exam has surpassed last year's numbers, with more than 132,000 applicants on Tuesday-the most in a single day-deemed qualified for the exam.
According to figures from Zhonggong Education, an institute that monitors the applicant numbers, more than 459,600 people applied to take the exam by the sixth day of this year's application window on Tuesday. Almost 103,000 of those had applied on Monday.
A record 27,817 civil service jobs are being offered this year by central government departments and subsidiaries.
The most sought-after job as of Tuesday remained a position offered by the China Employment Training Technical Instruction Center in Beijing, which had drawn 1,430 applicants, the institute said.
The second most sought-after job, according to Zhonggong, was a position offered by the regional earthquake bureau in the Inner Mongolia autonomous region, which had 768 applicants as of Tuesday.
However, another 876 jobs being offered have not registered a single applicant as of Tuesday, according to Zhonggong. For instance, nobody has so far shown any interest in becoming a railway police officer in Shanghai and Xi'an.
The application window will close on Saturday, and successful candidates must pass the 2016 national civil service exam, which starts on Nov 29, before they're granted a job interview in March.
In 2013, the total number of applicants who qualified for the national service exam reached a record 1.52 million. In 2014, the total number decreased for the first time in four years to 1.41 million, the People's Daily website said.
"Based on experience from previous years, the number of applicants could sharply increase as the application window closes, especially during the last three days of application," an unidentified official with the Ministry of Human Resource and Social Security said on the ministry's website.
The official said that some posts are more popular than others because they do not have strict requirements on education or work backgrounds of the applicants, and the jobs that have drawn thousands of applicants in recent years generally fall into such a category.
Meanwhile, 78 percent of the civil service jobs offered this year are posts at county or district levels, as the central government seeks to steer more college graduates to jobs at city and county levels, he said.
In a sign that civil service jobs may be losing their appeal, a report issued by recruitment website Zhaopin in late March said more than 10,000 public sector employees, including civil servants and staff members at public institutions, had submitted their resumes to potential employers through the site in just two months. The number was 34 percent higher during the same period last year, the report said.