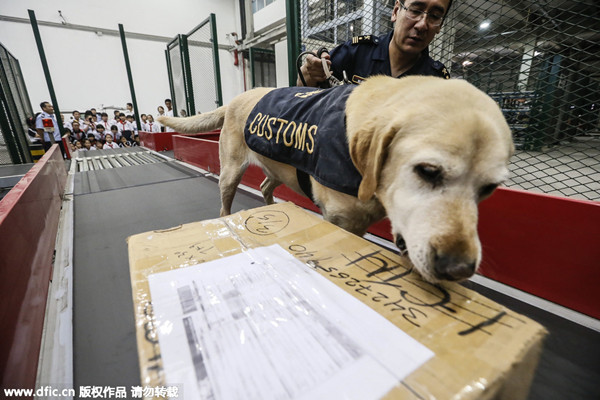 A sniffer dog detects if there is dangerous material in the parcel in Beijing International Airport on June 24, 2015. [Photo/IC]
Beijing's quarantine authority has warned against unauthorized dangerous substances being sent through the post or by courier after HIV-antigen was found in two parcels.
Zhou Xiaoping, an official in charge of air couriers at Beijing International Airport, said around 294,000 international parcels containing dangerous or illegal substances have been intercepted during the first three quarters of this year, a 2.1 percent increase from last year.
The haul may be only a fraction of the total amount of illegal parcels delivered to China because less than three percent of substances requiring quarantine examination are randomly checked, she warned.
Two separate parcels containing an organism that causes HIV were found in past months. Seven vials of HIV-antigen and HIV-antibody were discovered in a parcel sent to a pharmaceutical business in Tianjin in August.
Another parcel containing eight vials, among which three were found to hold HIV-antigen, were destined for a biological agent in Beijing in September.
Zhou said parcels claiming to contain regular chemical products are exempt from quarantine examination.
"Organism products are allowed to be delivered through the post or by courier under the condition that they go through quarantine procedures and obtain approval from authorities. Companies and research institutes with the qualification of managing the substances and using them for a reasonable purpose will be given the green light to receive them," she said. She warned that parcels would not be given special attention and substances could easily leak out.
In addition, parcels containing dangerous substances can only be received by organizations with the ability to dispose of them.
Nobody was injured during the interceptions.