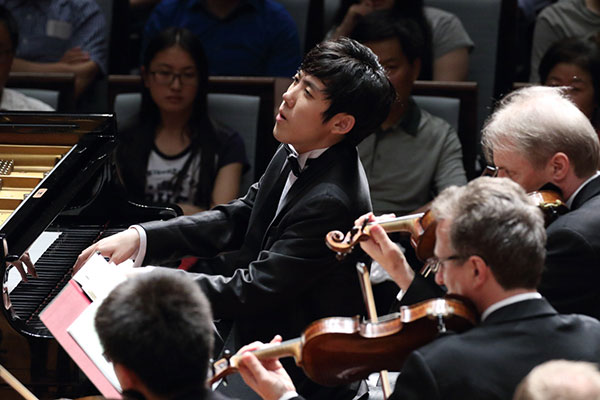 Zhang Haochen has worked with many world-renowned orchestras, and his latest collaboration with Norddeutscher Rundfunk brings the musician back to his homeland. [Photo/China Daily]
Chinese pianist Zhang Haochen is already touring the world at age 25, Zhang Kun reports in Shanghai.
Chinese pianist Zhang Haochen recently collaborated with the Norddeutscher Rundfunk orchestra, playing Robert Schumann's Piano Concerto in A Minor, under the baton of German conductor Thomas Hengelbrock.
It was the 25-year-old Shanghai native's first presentation with the Hamburg-based broadcaster's in-house orchestra.
The orchestra toured China from May 29 to June 1 and gave its first concert with Zhang at Beijing's National Center for the Performing Arts, where he returned for three curtain calls and an encore performance of Stravinsky's Petrushka.
Zhang says NDR is known for sticking close to German musical traditions.
Fans praised Zhang's interpretation of Schumann's work on social media, writing that Zhang found an "intricate and fragile balance" in the piece.
"This is among the most representative of works from the German romantic period," Zhang says of the piece.
While being highly creative, Schumann also had to fight a long battle with mental illness, but he faced his situation with bravery and honesty and became one of Europe's greatest composers.
Zhang, who won the Van Cliburn International Piano Competition in 2009, has worked with renowned orchestras such as London Philharmonic Orchestra, Philadelphia Orchestra and China National Symphony Orchestra. The pianist has established a career touring the United States, Europe and Asia.
He learned to play the piano at age 4, encouraged by his classical music-loving mother.