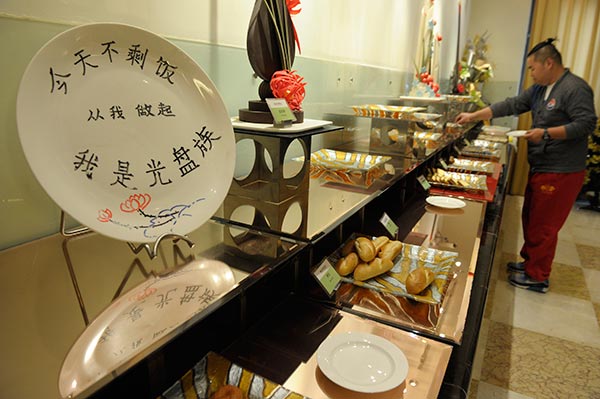 A buffet restaurant in Suzhou, Jiangsu province, displays a plate with a message encouraging customers to clean their plates. Photo provided to China Daily
As China's ongoing Clean Your Plate campaign has gained momentum since it began in 2013, many managers of restaurants-especially buffets-say they have consistently been able to meet their goals of stopping food waste. But it hasn't always been easy.
Four guests at the Xiang Wei Qing buffet restaurant in Lanzhou, Gansu province, were enraged early this month when the manager fined them 50 yuan per person for wasting food. The restaurant charges 75 yuan for its buffet but also assesses a 50-yuan refundable deposit for preventing food waste. Because a lot of food was left on the table, the restaurant manager says, the party did not get back the deposits, totaling 200 yuan.
A sign posted at the table read: DO NOT WASTE FOOD.
A customer surnamed Li and his friends were furious at the restaurant's "mandatory charges" and called police.
"I have never seen this situation before, " Li says angrily.
Since the Clean Your Plate campaign was launched in 2013 in a bid to curb food waste, many buffet restaurants have adopted similar strategies.
"For wasting too much food, it is reasonable for us to impose a penalty," insists Wang Xiaogang, the Lanzhou restaurant's manager. The wasted food every day in our restaurant could account for at least 5 percent of the total daily food supply, says.
"They left roughly 200 grams food. I think it is a suitable method to curb their disgraceful act, although we always don't do like that, " Wang says seriously. He says he believes half of restaurant customers waste a significant amount of food.
"Many guests are unaware of efforts to reduce food loss and waste, although some frugal slogans are put in noticeable positions such as at the entrance and at tables," Wang says.