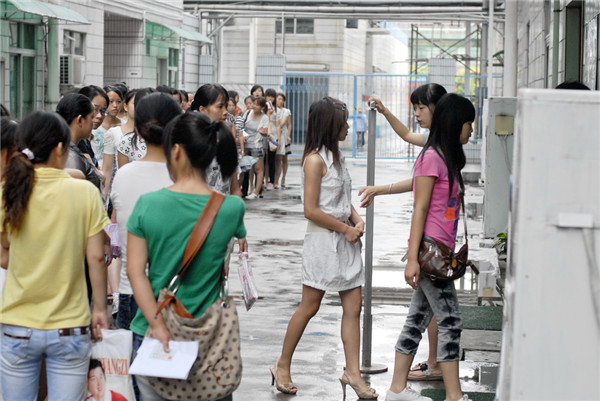 Recruiters from a factory measure the height of job seekers in Dongguan, South China's Guangdong province, June 28, 2011. Those failing to meet the standard will not be hired. [Photo by Zhan Youbing/photoint.net]
Zhan Youbing has for several years focused his lens on the hardship and struggle of migrant workers who leave their homes to seek a living in the large cities.
After completing military service in 1995, Zhan moved to Guangdong province and worked as a security guard and administrator in factories and hotels.
He began learning photography in 2002 and snapped colleagues at work since 2006. His is now a member of the China Photographers Association and has captured more than 400,000 images related to the life of migrant workers with many having been published.
Recalling his own time as a migrant worker, Zhan said numerous people from rural communities experienced the hardship of finding a job, harsh working environments and punishment from a superior, as well as police checking temporary residence licenses, factory bankruptcies and withheld wages.
Donguan was the city Zhan stayed in the longest during his time as a migrant worker and the pictures below are all from that city which is home to a large number of labor intensive factories. Migrant workers, like components on a production line, are well-regulated and grouped together to engage in repeated, dull, and streamlined work.
Zhan said migrant workers gradually see their youth disappear to be replaced by overstrained bodies and numbness of thinking, leaving them abandoned by the big city and their futures uncertain.