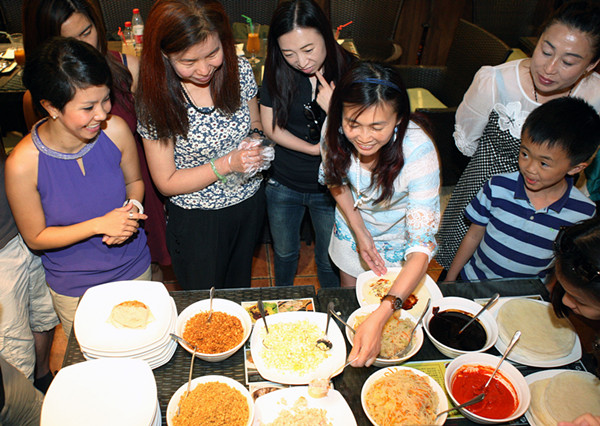 [Photo by Wang Zhuangfei/China Daily]
Beijing
Fun with food
1 Most diners go to restaurants so they don't have to cook, but sometimes there's a happy medium. At the Malaysian restaurant Raya, a do-it-yourself popiah-making session was such a hit that owner Jin is repeating the event occasionally on weekends. Popiah, a shrimp-and tofu-filled spring roll, is a popular street snack in Ipoh, a city in Malaysia, but the Fujian/Chaozhou-style fresh roll is a favorite in Singapore and Thailand, too. The how-to session is 60 yuan per person; afterward, most customers linger and order whatever dishes they like from the regular dinner menu. Call for next scheduled event.
Raya, World City Block E (next to The Place, opposite Parkview Green), Dongdaqiao Lu, Chaoyang district, Beijing. www.rayamalaysian.com. 182-0161-3345.
Feast from the grasslands
Kebabs, barbecue, beer, Mongolian horse wine, and a chat with Genghis Khan? Resist if you can. We'll cope with a dubious Khan and cheerfully listen to a sales pitch for The Hutong's Vanishing Steppe trip to Inner Mongolia, just to find out what Mongolian horse wine might be. We may be glad to have a beer to wash that down, but memorable experiences don't come every day.
6:30 - 9 pm Sunday; 80 yuan per person, 60 yuan for members of The Hutong; 1 Jiudaowan Zhongxiang, Dongcheng district; info@thehutong.com; phone: 159-0104-6127.
Specialties of Anhui
The Minzu Hotel is hosting its second Anhui Food Festival, which will continue through June 15. Immersed in the poetic and picturesque classic Anhui-style settings, listen to the Huangmeixi, a kind of opera very popular in the Anhui while try the heavy pickled taste of regional dishes. The Beijing Changle Huangmeixi dramatic troupe will entertain guests every day. Anhui cuisine is one of the Eight Great Culinary Traditions of China, with the taste of strong flavor, spiciness and healthy character behind its rich culture. Dishes are cooked by roasting, stewing, braising, steaming, smoking and other cooking techniques: Stinky Mandarin Fish, Hairy Tofu, Li Hongzhan Hodge-Podge and Pork Belly Egg Rolls are all featured.
Through June 15; No 51 Fuxingmennei Street, Xicheng district, 010-6601-4466, Ext. 163/162.