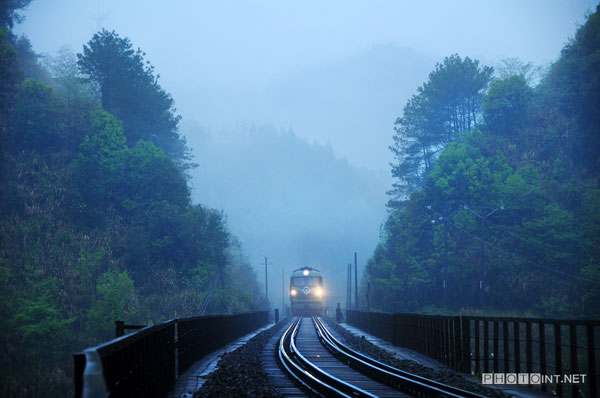 [Photo by Wang Wei/photoint.net]
Few individuals savor the sight of the world's busiest railway system more than Wang Wei, a 25-year-old photographer who's travelled thousands of kilometers to photograph China's trains.
"A passing train always sets my heart racing, especially in amazing scenery," said Wang, who, after a decade of photographing trains, considers them his "dearest friend".
He usually spends five months a year braving rough terrain, weather and wildlife in order to capture scenes of trains around China.
So far, he has traveled 200,000 kilometers and snapped around 300,000 photos of all types of trains passing through various landscapes from plateaus and deserts to snowcapped mountains.
He loves the smell of diesel and iron rust. While other people cover their ears to avoid loud train whistles, Wang Wei instead claps.
His photos have earned the budding photographer critical acclaim.
Popular Photograph, China's top-selling photo magazine, named him as one of the best photographers in 2012. Meanwhile, Chinese National Geography, and Lonely Planet have began using his works.
Many attribute his success to his patience and persistence in capturing the perfect photo.
For one photo on the Qinghai-Tibet Plateau, where a section of railway spirals up the mountain at an altitude of 4,000 meters, Wang suffered through 5 nights of altitude sickness waiting for a cloudless sky and a train to pass. His wait was awarded when he captured a train spiraling along the railway with the Big Dipper flashing across the clear sky in the background. He named the photo "Orbit".