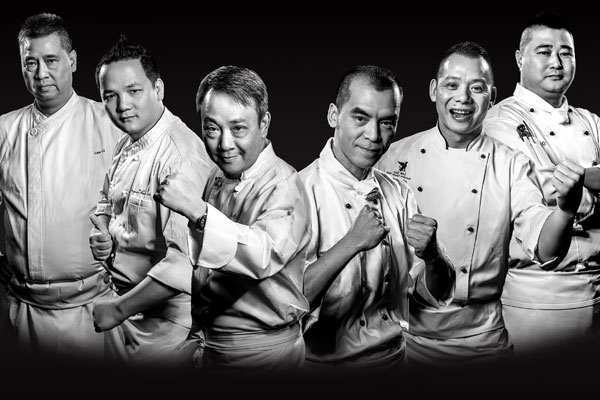 Battle of the Chefs Lineup: (From left) Renaissance Tianjin Lakeview Hotel/Leo Li/Chinese executive chef Renaissance Beijing Wangfujing Hotel/Leo Li/ Chinese executive chef Renaissance Beijing Capital Hotel/Jackie Fong/Chinese executive chef Beijing Marriott Hotel Northeast/Allen Han/executive sous chef JW Marriott Hotel Beijing Central/Leo Cao/executive Chinese chef Marriott Jixian/Oscar Li/ executive sous chef [Photo provided to chinadaily.com.cn]
Marriott International North China organized a "Battle of the Chefs" at Choy's Seafood restaurant in the Beijing Marriott Hotel Northeast on March 26.
Six Marriott chefs from Beijing and Tianjin teamed up for an epic and appetizing battle in the refined, yet raucous atmosphere of Choy's. Highlights included each of the chefs' thoughtful signature dishes exclusively tailored for 30 guests as they competed for the best concept award.
Marriott master chefs showcased their outstanding talents combined with the best available ingredients ranging from lobster to sea conch, abalone, chicken, Alaskan crab and beef. Choy's is a trend-setting Chinese seafood restaurant specializing in Cantonese and Sichuan flavors.