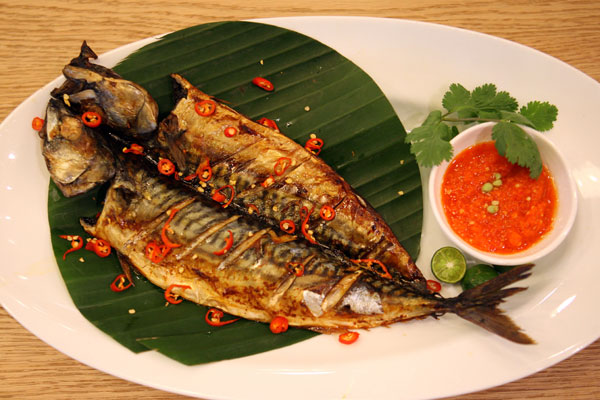 Malay grilled fish. [Photo by Wang Zhuangfei/China Daily]
The latest evidence of Malaysian food's strengthening presence in China: the arrival of the new PappaRich restaurant at the Ikea store in Beijing's Daxing district.
Established in Kuala Lumpur in 2005, the popular chain now has more than 70 outlets in its home country, plus cities from Singapore to Australia, the United States and Britain.
In 2013, Chinese restaurant group Tang Palace-after forming a joint-venture subsidiary with PappaRich-brought the brand to the Chinese mainland, opening the first three outlets in Shanghai.
The Beijing branch is the fourth.
On a recent Monday lunch visit, I go to the eatery and find quite a few tables already taken, even though there are few people visiting Ikea at the time.
The menu presents abundant and colorful choices that boast coconut milk, curries, chilies and heavy sauces. The restaurant seems to feature modern Malaysian cuisine that draws influence from other Asian countries, especially Thailand and Singapore.
Restaurant manager Jiang Jinling tells me that all the dishes are prepared by traditional methods to ensure the authenticity of Malaysian taste.
Many of the ingredients, including sauces and tropical vegetables, are imported from Malaysia, she adds.