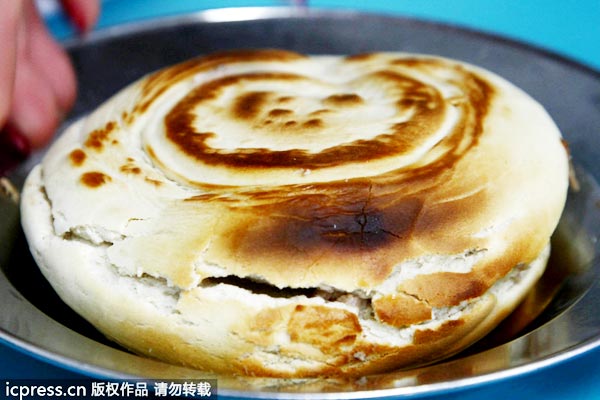 Chinese hamburger, or roujiamo [Photo/icpress]
A friend took me to a Shaanxi restaurant for lunch where I had my first taste of a Chinese hamburger, or roujiamo, which literally means meat between bread.
It was simply delicious, a lot better than any hamburger I have ever had before, whether it was at McDonald's or a five-star restaurant in San Francisco. Of course, other than the look, roujiamo is very different from the Western hamburgers we are used to.
Only unleavened bread is used in roujiamo, and the filling is a thick stew of chopped meat, which can be lamb or beef, cooked with pepper and mixed herbs. About the size of a double-burger at McDonald's, roujiamo is a meal by itself.
Munching on my lamb roujiamo, I wondered why hasn't any entrepreneur built a fast food chain selling roujiamo in China to compete with McDonald's and KFCs. That seems such a natural thing to do.
I went back to the same Shaanxi restaurant to buy two roujiamo to go. I got my order individually packed in cute paper bags in a little more than five minutes. That's as quick as a takeout at McDonald's.
After I got home, I discovered another great advantage of roujiamo over a hamburger. Roujiamo are extremely microwave friendly. I just heated one in its paper bag in the microwave for 30 seconds and it tasted nearly as good as the one I had at the restaurant. Reheating can easily ruin a Western-style hamburger, rendering it inedible.