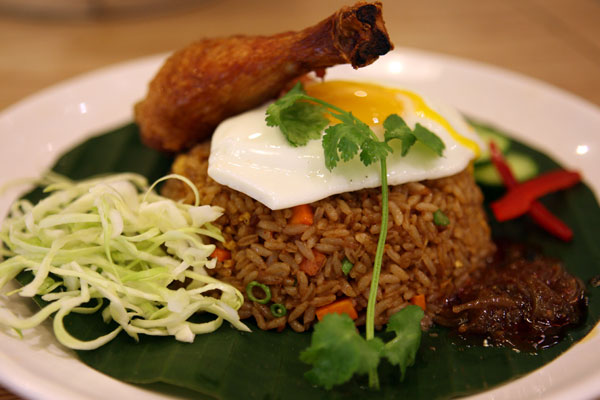 Sultan fried rice and signature chicken leg. [Photo by Wang Zhuangfei/China Daily]
After asking her advice, I pick several of the restaurant's flagship dishes from more than 120 choices, and they all turn out to be remarkably delicious.
I start with the French toast, because it looks golden and inviting.
Each slice of bread toasted with egg is about 3 centimeters thick, sliced with a pocket to be stuffed with peanut butter and kaya, Malaysian coconut jam made of pandan and sugar.
The first bite combines the feel of the soft toasted bread with the crunch taste and nice aroma of peanut butter, then an aftertaste of kaya. I can't stop eating it.
The restaurant's signature drink, litchi soda, is a perfect match to the French toast.
Fresh litchi, cucumber slices and mint leaves, which float beautifully among crystal ice cubes, have been steeped in the soda water. The drink nicely balances sweet and sour, making it enjoyable and refreshing.
One of my favorite Malaysian dishes is chicken and beef satay. The delicacy of seasoned, skewered and grilled meat is very popular in Malaysia, where chicken and beef are the most common meats on menus.
The texture of the meat is critical to the satay's taste, and the skewered beef at PappaRich is very good. Each slice is soft and chewy, under the coating of a sweet, dark and mildly spicy sauce.
But the chicken satay fails me, seeming too soft. It's so unappealing that I allow it to get cold-which only makes it worse.