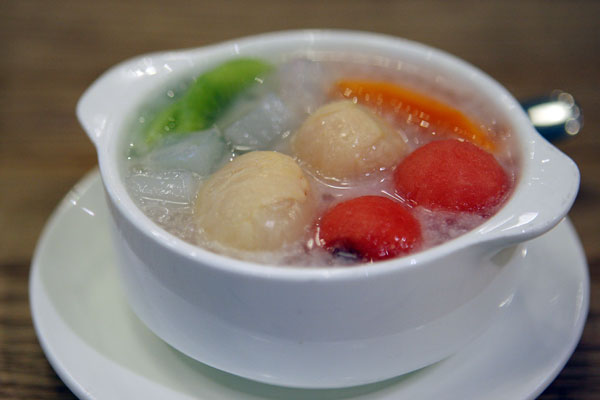 Fresh mixed fruits with sago. [Photo by Wang Zhuangfei/China Daily]
At PappaRich, I like the curry chicken laksa very much. The rice-noodle broth is a combination of Chinese and Malay cuisine, and has a long list of ingredients, such as chicken, shrimp, tofu puffs, beans, eggplant, chili, mint leaves and shallots. The hot chicken soup is poured over cooked rice noodles, which brings out a rich mixture of spicy, sweet, sour and salty tastes.
The "sultan fried rice and signature chicken leg" is also a must-have at PappaRich. The combination delicacy got its name because it was once served to the ruler of Sudan, according to manager Jiang.
It's a delight to the eyes, as the brown fried rice and grilled chicken leg are served with a white fried egg, and light-green lettuce slices, all presented on a dark green background of plantain leaf.
The rice doesn't seem very special, although the chicken leg is tasty from the skin to the inside. It's large, so it easily appeases my hunger for meat.
The chicken leg is salted and seasoned for many hours before grilling, which makes the bird's skin crispy and the inside delicious.
Among the PappaRich dessert selection, pandan milk pudding and coconut milk pudding are the most popular for their original Malaysian flavors, Jiang says. Mixed fruits with sago and black sticky rice in coconut milk are also popular. Late this month, the restaurant plans to add new beverages and desserts to its menu, she adds.
And, why is it called PappaRich?
Founder Rich Tan writes on the company website that a memorable name is important for a brand's success. "Everyone loves the word 'pappa', someone whom you can easily relate to and remember whilst being close to your heart." As for the word "rich", "Doesn't everyone want to be Rich, especially a rich pappa"?