Sharing the best wines, and the cost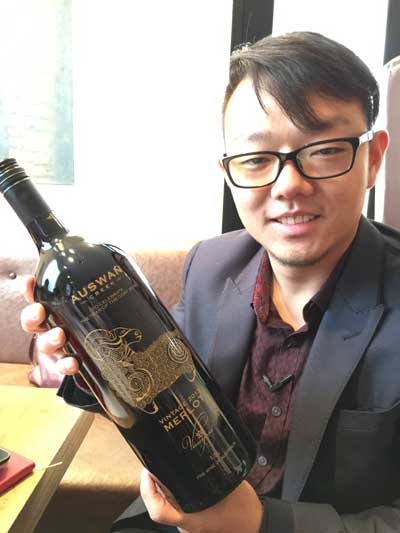 Johnson Guo holds a bottle of Golden Goat Celebration Edition merlot from Auswan Creek winery in Australia. Mike Peters / China Daily
When my phone chirped with an invitation to an "old goats" wine-tasting, at first I thought somebody was kidding me about my age.
Turns out the "old goats" were wines, chosen by Johnson Guo, the affable sommelier at the South African restaurant Pinotage in Beijing, in a tongue-in-cheek salute to the Year of the Ram.
The oldest goat was a revered one: a 1988 Chateau Mouton Rothschild Pauillac, a cabernet sauvignon made rich with three decades of aging. Guo concedes that the wine had probably peaked after 20 years, but for most of us around the table it was the grandest drop we'd ever put in our mouths. Quite delicious right out of the bottle, the wine's smooth leatheriness came to the fore after decanting, when we had a second round of tasting.
Guo hosts such tasting panels every few weeks, with different people signing up each time. Each group of 10 gets to try four wines, including one like the Mouton-from the cellars of one of Bordeaux's Top Five wineries-that would usually be unaffordable for an individual drinker. "When you divide the cost by 10," Guo says, "everybody gets to try it". Each participant wound up paying about 500 yuan ($81) to enjoy four interesting wines, including the Mouton.
The less-pricy wines on the table were fun, too-particularly the Golden Goat Celebration Edition merlot from Auswan Creek winery in Australia. The 1.5-liter bottle, lavishly decorated with a glittering ram and wrapped in crimson velvet, was half the fun, but the pleasant wine made it more than a souvenir bottle.
Oak it yourself
With the luxe residue of the Mouton still lingering on my palate, I read about a Canadian entrepreneur who grew up on a family vineyard and says that a simple wooden bottle he's designed can "age" cheap wine to make it taste like pricy vintages.
Joel Paglione says the Oak Bottle is an extension of wisdom from his winemaker father, who told him, "The smaller the oak barrel we use the faster the oak infusion and the faster we can achieve the desired oak tannin we are looking for in our wine," according to a report in Britain's Daily Mail newspaper.
Could it be that easy? I doubt the wizards of Chateau Lafitte or California's Napa Valley, where wine is aged in oak casks for months and even years, are trembling at this development. Full disclosure: While the idea seems goofy to me, I couldn't resist sending my $79.95 to oakbottle.com to try it. Watch this space for a future report.